Recent weeks on the Commander Islands are very foggy and windy, though the wind cannot blow the moist hanging in the air away. Airplanes for Nikolskoye are suspended for several weeks already. The Commander Islands Reserve volunteer Maria Bondar planned to leave Petropavlovsk-Kamchatsky for Moscow on August 5, but she didn't manage to leave the islands with the retreating fog on the planes, which arrived on August 3 and 4 on Bering Island. But Maria was not disappointed, she even wrote about this event for us. 
— I spent this summer together with whales, seals, tufted puffins, sea otters and other inhabitants of the ocean and the remote foggy Commander Islands! I am a volunteer of the Commander Islands Nature and Biosphere Reserve. And I cannot still fully believe it is true. 
For more than two years I wanted to travel to the world's end – as the Commander Islands are frequently called. It is not that easy to get here – you need money, time and luck. From Petropavlovsk-Kamchatsky you can take a plane, but it costs a lot, though you can take a plane from Ust-Kamchatsk – it is cheaper, but there are problems with finding lodging while waiting for the plane, which may take you days or even weeks. An even cheaper variant is to take a passenger motor ship Vasily Zavoiko. It navigates rarely, not even monthly. Both vessels are very dependent on weather conditions.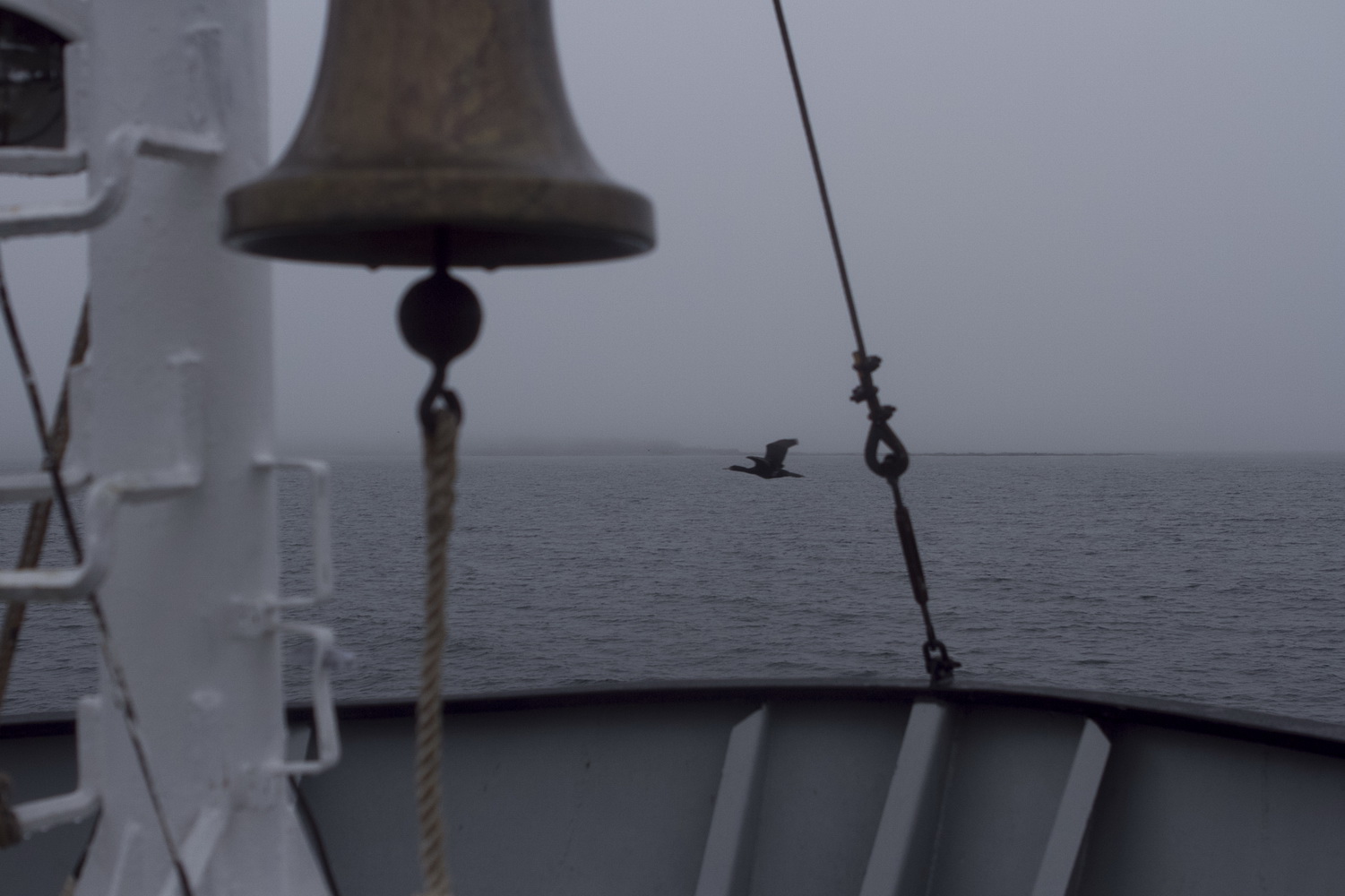 Coming to the Commander Islands. View from Vasili Zavoiko motor ship. Photo by Maria Bondar
The volunteering program of the Commander Islands Reserve includes lodging in Petropavlovsk and on Bering Island, as well as warm clothes for the stay and organization of one or several excursions (depending on weather). Other things are in responsibility of the volunteer. Volunteers work full day, as all other employees. As I know from my experience, there are many things to do here. 
When I sent the letter of submission, I doubted even though I had a positive experience of volunteering in Baikal Zapovednik voting for me. I also have a big touristic experience, work experience in school and 5 years of work in Murzilka Magazine behind me. As I discovered later, the Commander Islands Reserve employees wrote to their colleagues in Baikal Zapovednik and asked about my performance there. They had a positive opinion – thank you, my Baikal friends! – and I received an invitation from the Commander Islands Reserve. 
Then I had to postpone my flight from Moscow, because there were no motor ships, six days of waiting in Petropavlovsk-Kamchatsky without knowing the exact departure time, three days in the ocean, one of which we spent in a bay hiding from a storm and rocking waters all the way to the islands – it was so hard, that even the crew of the ship didn't remain unaffected. However, everything is unimportant, because after two years of thinking about the Commander Islands and a week and a half of travel I finally came to the realm of winds and fogs. 
Fog remains on the Commander Islands despite of stormy winds. Photo by Maria Bondar
Every day here is worth a whole story. A big part of them is connected to the work of the reserve. As a volunteer I help the Environmental Education Department – I prepare materials, participate in organization of children events and make photo reports. I envy the children of the Commander Islands a bit. Everybody needs to have such educational, exciting and heartfelt lessons about local nature. Many of them are conducted by the researchers of the reserve. Some of them are organized on the territory of the reserve. For example, an excursion to Severo-Zapadnoye marine mammals rookery, in which I took part along with the kids. 
Rookery is a fantastic place. When we reached it, I realized why on our way children were asked several times to be calm near animals. The coast is covered with dozens of roaring fur seals, which protect their harems, and black pups lying, with peaceful and majestic sea lions, which look like they are bored with this noise. When you see this picture, it is difficult not to sing with delight. The children and I stood motionless on the observation point, made by the reserve. It allows observing the animals in comfort with safe distance between the tourists and the animals. The information boards, installed there, are a source of valuable information, for example, I found out about the dynamics of sea lion population.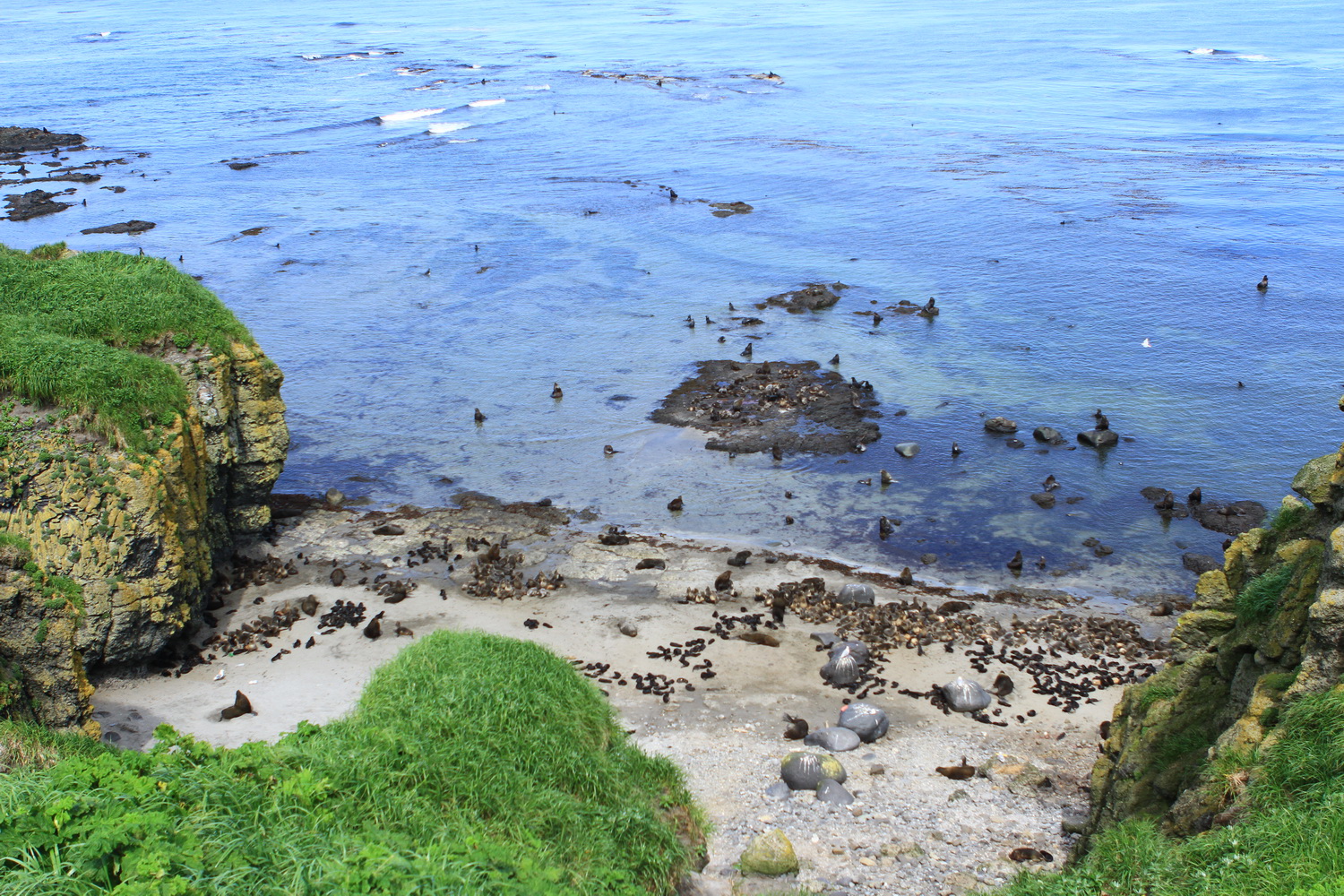 It was sunny on Severo-Zapadnoye rookery during the excursion day. Photo by Maria Bondar
While we were on the rookery, a grey whale came feeding between Gavanskaya and Ladyginskaya Rivers. To see a whale was the biggest of my dreams on the Commander Islands, that is why I believe, that a whale of the only whale species, which feeds near the coastline by turning on its right side and filtering the sand, coming near the village was a reward for my determination. From the coast you can see a grey flipper with white dots on it and half of the fluke. When it turns to inhale, it makes a large fountain! You just cannot be bored with the sight... 
By the way, it turned out, that the fountains smell like bad breath. I even managed to see the 15-meter long whale in full size on the video, made by the Commander Islands specialists, who used a drone for this purpose. 
Grey whale shows its back from the water. Photo by Maria Bondar
The weather can change in a blink of an eye. After some relatively warm days a cold wind came and brought thick fog, in which it may be hard to see a neighbor house. To walk in such fog is an exquisite pleasure. You can see only as far as a meter ahead of you. Every object farther becomes vague and has a mystic feel to it. During such foggy days now plane or ship can leave or reach the islands. The fog stayed for a week and a half. After this we decided to organize an excursion to Toporkov Island. 
We left for the sea and the fog started to melt away and we saw the island. Thousands of tufted puffins, which looked like flies from far away, scurried around – it was a marvelous sight! As well as the island itself, dug with the nesting holes of 50 thousand pairs of the so-called northern sea parrots! The life here is different, though clever and organized – the adults protect the nests and fly to the water to find some food. A human is felt here as an alien element. From one point of view, it is a strange feeling, but it is such a pleasure to be on this tiny bird island.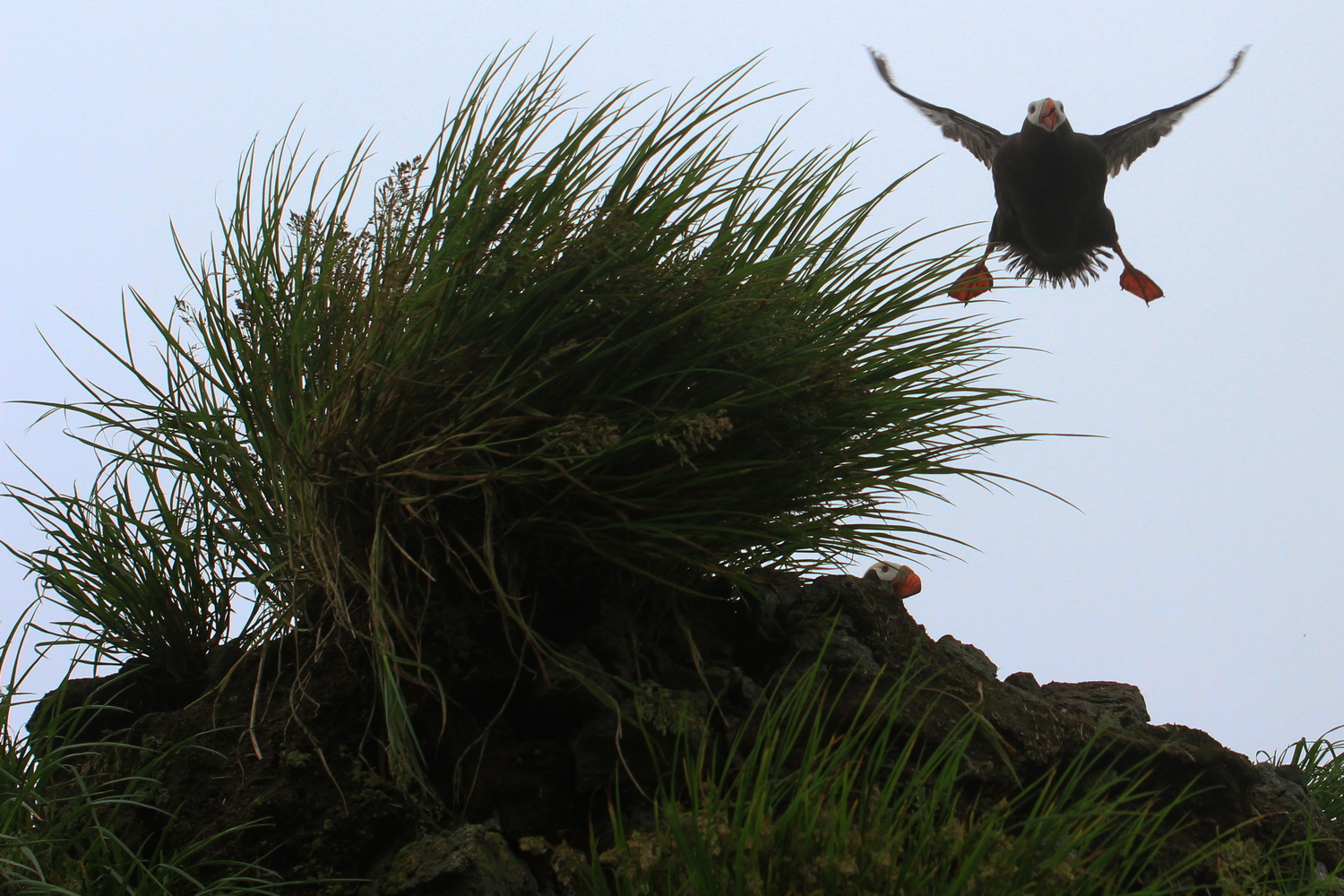 On Toporkov Island. Photo by Maria Bondar
We came to Nikolskoye and the fog was already there, hanging in the air. I had a ticket for August 5 from Petropavlovsk-Kamchatsky to Moscow, but my destiny had other plans – the fog was enveloping us, making the islands a part of a fairy tale and preventing the planes from leaving or coming. Today I returned the tickets for a refund, but it is worth it. I stayed on Bering Island. 
Head photo: Maria Bondar on the Commander Islands. Photo by Alexei Veledinsky