The Commander Islands Nature Reserve announces the #WithCommanderIslands online contest. While we spend more time at home, we offer to plunge into the world of happy whales and graceful seals, charismatic arctic foxes and majestic reindeers. In order to be on the same wavelength with us, you don't need masks, gloves, and we don't even need to stock up on gifts to come for a visit!
We propose to parents of young active children to visit the Children's Page of the Commander Islands Nature Reserve and depart on a fascinating virtual trip.
"Bearded" tufted puffin returns with prey
For example, it will be interesting for beginner-birdwatchers to learn more about colorful friends: tufted puffin and horned puffin. You can begin your acquaintance with the ABC section, where articles and poems about them are stored. To consolidate knowledge and have a fun evening with friends, you can use the materials from the Workshop section and make your own tufted puffin of colored paper or a horned puffin mask. In Coloring Book section there are images of puffins. You can simply print the image and calm your nerves by painting unusual birds in different artistic styles, or you can use all your creativity and put outlines on watercolor paper, use the outline as a layout for burning or embroidery. Now is the time to enjoy your creativity!
And especially enthusiastic naturalists will be glad to know that the Library contains links to many books about the wonders of nature, heroes, reckless researchers and different views on the nature of the islands, including the work of May Miturich "The Commander Islands". It was he, who noticed that the tufted puffin, on returning from the sea, looked like a bearded man.
Have you wanted to learn to play a musical instrument or sing for a long time? To create a good mood, you just need to look into the Music section and listen to songs about the two birds and if you wish, you can play them at home or sing using the backing track, because we also have notes and phonograms! On our YouTube channel you will find a sand animation movie about the tufted puffin, which will definitely inspire you to the most unexpected achievements.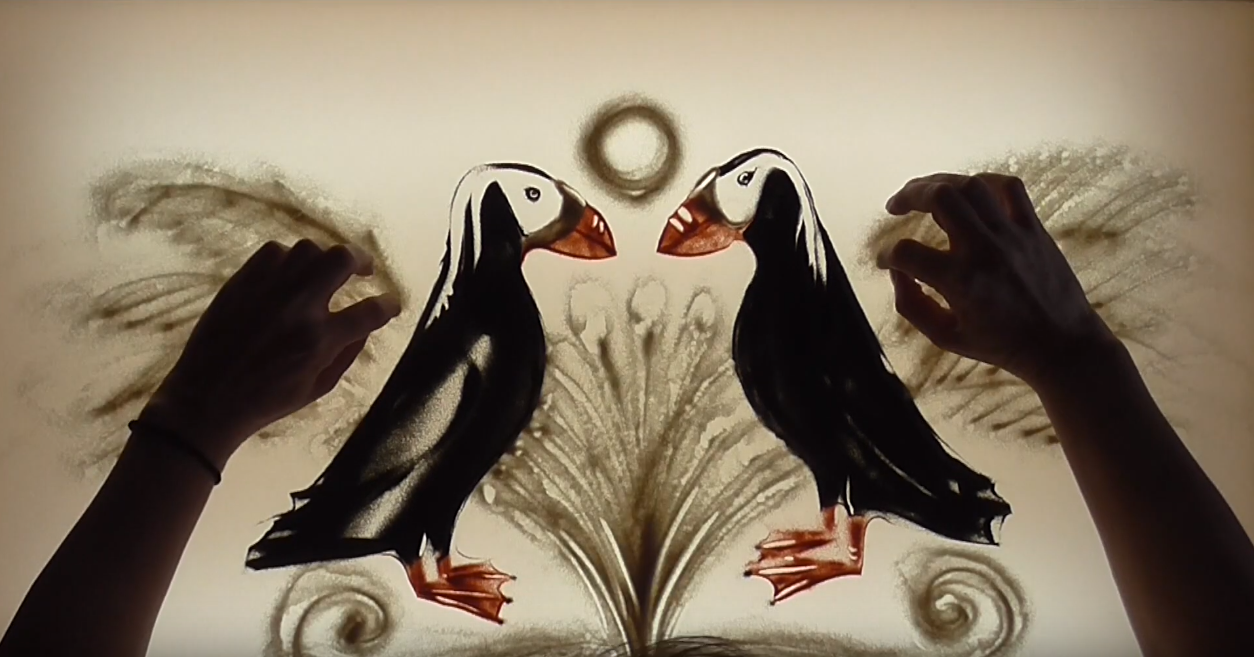 Tufted puffin cartoon excerpt
Choose your heroes and boldly explore the Children's Page of our site.
Older enthusiasts may be iterested in our Learn Latin articles, where you will find out why our inhabitants are called as they are. For researchers with experience, articles on our Facebook page under the general title Talking About Science will be suitable.
Share your discoveries, drawings, home concerts, and other achievements in Instagram with hashtag #WithCommanderIslands Make the day for yourself and your friends with new impressions and bragging rights. At the end of the week we will choose the most active and creative virtual friends and send gifts.
The Ministry of Health warns that coronavirus is the causative agent of acute respiratory viral infections, in which marked intoxication and problems with the respiratory and digestive systems are noted. If you feel signs of an acute respiratory illness, consult a doctor. The virus is transmitted by airborne transmition, as well as by shaking hands. Experts recommend avoiding attending public events, avoiding contact with people who have symptoms, to wash hands and wear masks more often.
Take care of each other; take care of your health and the health of your children. Get inspired, create and share!