Today is the 338th anniversary of Vitus Bering, famous sea farer. One sea and one strait were named after him, along with one island of the archipelago. To commemorate this event we publish an article of Natalia Tatarenkova, Head of Historical and Cultural Heritage Preservation Department.
A Danish Sailor Boy
The future commander was baptized in a Lutheran church of a Danish town Horsens on August 5/15, 1681. His mother Anna Bering was a part of a famous but impoverished noble family. The boy was named after his grand uncle Vitus Pedersen Bering, who was a poet, historian and chronicler at the royal court.
The father of the boy, Jonas Svendsen, came from Halmstad. His first wife died and left him two children: Anna Cathrina and Svend. Vitus grew together with them and his full blood brother Jørgen Blumester. Destiny of Svend was not easy. He was sentenced to imprisonment in South India. Not to blemish his future reputation Vitus took his mother's surname – Bering.
Jørgen was accepted to Copenhagen University. Vitus, the first son, soon after graduation from school enrolled in marine fleet and became a sailor boy at the age of 15. He sailed on Danish whaling vessels in North Atlantic, visited European colonies in the Caribbean and on the eastern coast of North America. The travels did not prevent the aspiring young man from graduating from cadet school of Amsterdam in 1703.
Serving the Russian Empire
In 1703 Bering enlisted in Russian fleet as a Second Lieutenant. First he served under Admiral Cornelius Cruz, born in Norway.
During times of Peter the Great career of the Russified Danish developed at full speed. In 1707 he became Lieutenant, in 1715 – Captain fourth rank, in 1717 – Captain third rank and in 1720 – Captain second rank. He served in Baltic and Azov Seas, took part in war with Turkey, was on watch, and transported military vessels by rivers, commanded snows Munker and Timalar and ships Pearl, Salathiel, Melbourg and Lesnoye.
In the end Great Northern War in 1721, Bering was not promoted, as were many of his contemporary. In 1724 in desire to save his face he resigned. His resignation was accepted with provisional promotion to Captain 1 rank.
In several months Bering headed to the Admiralty one more time and was employed at once. In October he returned to sea as Commander of a 90-canon vessel Lessnoy, one of the biggest Russian ships of those times.
Age of Discovery
In December 1724 Peter the Great appointed Vitus Bering the head of the First Kamchatka Expedition. Within two weeks of the marine voyage the crew described over 3500 km of the coastline of the sea later named the Bering Sea. Nevertheless, the goal of the expedition was achieved only partially. St. Gabriel boat crossed the strait and got to the Chukchi Sea. As a result the crew proved that Asia and North America are separated. Though because of thick fog the American coast was not found, that is why Bering proposed a more large-scale research of the North-West of Asia, including an important for Russia passage to Japan and North America.
In 1733 he was appointed the head of the Second Kamchatka Expedition, which was later called the Great Northern Expedition. Within over 10 years of work, the members put on map the northern and eastern coast of Russia, described inner parts of Siberia and found the ways to Japan and North America. The discoveries were not only academically important, they meant regular post connection with Okhotsk, Yakutsk, Irkutsk, Tumen and new trade ways.
Death on the Island
The life of Vitus Bering ended on an uninhabited island, which was named after him. November 28, 1741 St. Peter pocketbook coming from America back to Asia was casted ashore and damaged.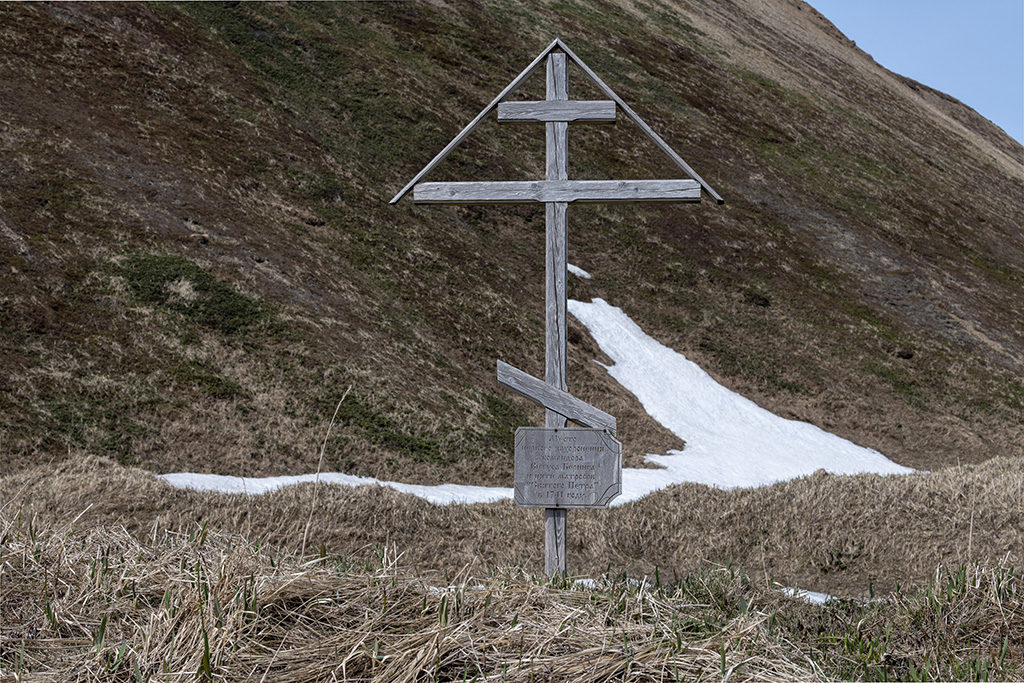 The place of the first burial of Commander Vitus Bering and five sailors made in 1741. Photo by Anastasia Panfilova
The forced wintering was hard. Among sandy hills they built 6 dugouts – shallow holes covered by sailcloth. George Steller, ship doctor and naturalist compared them with graves. The first months took lives of 20 crewmen, including Captain Commander. Death came to him on December 8, two hours before the dawn.
Steller wrote that "his self-command, serious preparations and the delivering end, which came while his was fully in control of his mind and speech, are admirable."
Bering was a religious person and his faith gave him strength and fascinating humanity. Regardless of the hardships, pain and deprivation during the two expeditions, he felt responsible to fulfill the task given by Peter the Great. Commander died in a cold, windswept hole, but he was happy, as he fulfilled his duty to people and God.