March is a very busy month on the Commander Islands. We make seasonal counts of the wintering anseriformes, which will leave for nesting in April. In month and a half nesting seabirds will come back and arctic foxes on Bering Island will establish new homes for breeding. To avoid troubling them in such a difficult period the Commander Islands Nature and Biosphere Reserve started the research of Bering Island population – concentrated in the Northern part of the island – on March 6, 2017, so that the research will be finished till the end of March, before the breeding period.   
Alexander Shiyenok, PhD (Biology), Senior Research Officer of the Commander Islands Reserve and Researcher of M.V. Lomonosov Moscow State University, will be responsible for the research. Alexander has a vast experience in such work, as he has many times participated in it during summer season and organized the research on Medny Island, inhabited by a local subspecies of arctic fox, called Medny Island arctic fox.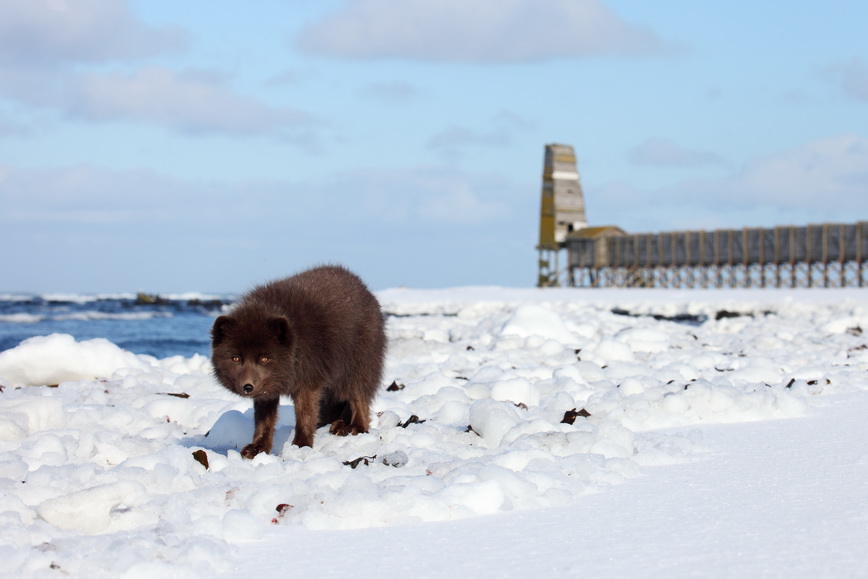 On Severnoye rookery. Photo by Evgeny Mamaev
We plan to incorporate several actions in the research, such as catching 12 arctic foxes with live traps, tagging them, taking samples for further analysis (fur, soft tissues and excrements), estimating arctic fox population on the Northern part of Bering Island. These operations presuppose permanent living far from the village – "in the island", as the locals say. That is why on March 6 Alexander Shiyenok, together with Ivan Rusakov, i/c Chief Ranger of the Commander Islands Nature and Biosphere Reserve Environmental Protection Department, left for Severo-Zapadnoye rookery with plans to visit other spots on the island. 
We chose this spot, because high numbers of arctic fox are estimated to be near Severnoye or Severo-Zapadnoye rookeries or near Lake Sarannoye in the Northern part of the island. This prognosis was made on the basis of many-years observations of our Scientific Department.
Usually arctic foxes are located near food supplies, no matter what season it is. The more food there is – the more arctic foxes you find. In summer the spots are near rookeries, salmon spawning ground and seabirds nests. In winter - near wintering pinnipeds or sea otters, non-freezing river Sarannaya or on the coasts. Though arctic foxes are no marine mammals at all, their life – as lives of all insular inhabitants – is closely connected to the sea. During low tide on littoral area the animals can find a nice meal – mollusks, other invertebrates or even fish. A corps of a stranded whale is a real gift for them, which leads to higher concentrations of these animals.  
In winter arctic foxes travel around Bering Island in search for food. Photo by Evgeny Mamaev 
In winter seals rookies may seem deserted, as the majority of animals leave the Commander Islands for winter. Still there are some, which prefer to stay. Sometimes they dye on the rookery, which helps arctic foxes to survive, as they check regularly these parts of the coastline. In spring and in summer arctic foxes prefer to stick to their "family grounds", which they choose during breeding season. The center of this territory is in the hole, in which the cubs are born. We might be lucky to find some arctic foxes preparing the holes, as they start to get rid of snow and rubbish. During summer season arctic foxes protect their territory, as they cannot leave the hole unprotected. In winter they leave their dwellings in search for food and start to travel around the island. 
Usually winter counts in the Commander Islands Nature and Biosphere reserve are made with use of snowmobiles or rarely of all-terrain vehicle. In is quite obvious, that data collected by foot and those, collected on vehicles, will differ a lot. Alexander Shiyenok will travel by foot to count the population of arctic foxes in the Northern part of Bering Island, especially near the rookeries and Lake Sarannoye.  
Photo by Alexander Shiyenok
As it was mentioned above, to catch the animals we use live traps – special cages with bait in it. As an arctic fox enters the cage, the animal steps on a pedal, which activates the mechanism and the door closes. The caught animals will be tagged with numbers, put on their ears with special device. We also take a small sample of ear tissues – about 1mm2 – and fur samples. Later we will send the samples for genetic analysis in a laboratory. This procedure is absolutely safe for the animals. Moreover we remove ticks and send them for analysis as well. 
Excrement samples are also taken. The main task is to identify parasites infecting arctic foxes on Bering Island. Thorough excrement analysis will be made for the first time and will bear the results useful not only for future scientific work, but also for agriculture. On the island animals live in close connection with each other. So parasites can travel from arctic foxes to reindeers, goats or even people, which is a threat for the locals and especially for tourists.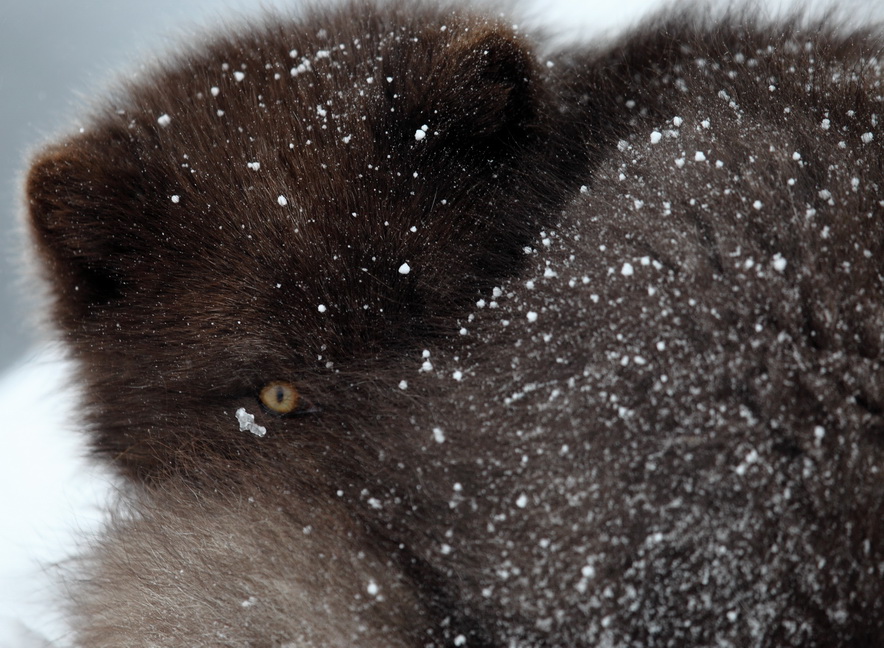 Arctic fox covers its neb with its tail during snowstorms. Photo by Evgeny Mamaev