The WWF has called on its advocates to support the development of an ecological trail along the Severo-Zapadnoye Marine Mammal Rookery. WWF Russia is confident that the arrangement of the most popular tourist route on Bering Island will provide tourists with the opportunity not only to see the unique nature of Commander Islands, but also to preserve its pristine beauty.  
The reserve has been developing the  eco-path  since 2013. During this time, thanks to donations, two new observation points with information boards, an entrance group and a 42-meter-long staircase located on the most difficult part of the tourist route appeared here.
Staircase constructed in 2019
At the last stage of the work, it is planned to lay down trails in areas of very rough terrain with elevations and rugged terrain and connect them with stairs. This is necessary both for the safety, and in order to minimize the anthropogenic load on the coastal ecosystem.
3.8 million rubles are required for the production and installation of flooring, railings, stairs and stair flights with places for relaxation. The collected funds will be used to purchase building materials (bars, piles, ropes, base paint, etc.), tools (drills, discs, hacksaws, brushes,  etc.), as well as all construction work.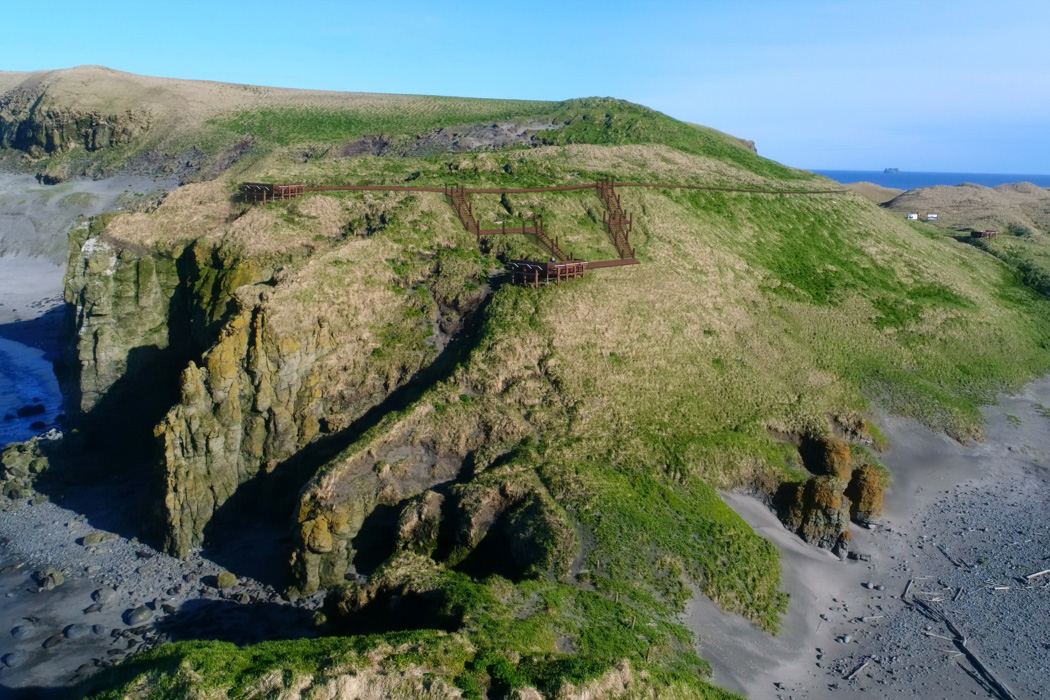 That is how the path will look after completion
WWF Russia  collects  donations for arranging paths as part of Earth Hour 2020 event. In our country,  the campaign  is being held for the 12th time. This year, environmental activism has become its main theme. Each participant will be able to find out which sphere in the nature respect movement suits him or her best and how to contribute to the preservation of our nature and the planet. 
The campaign is held under the slogan "Everyone can!" and will focus on five areas of environmental activism. In order to understand what type of environmental activism suits you best and find out your "Ecological Purpose", WWF-Russia offers to pass a special  test  on the Earth Hour website.
The compaign will end on March 28. On this day, in order to draw attention to environmental problems and rational consumption of Earth resources, tens of thousands of world-famous buildings and sights, including many Russian cities, will be de-illuminated from 20:30 to 21:30 local time around the world.