Today the whole planet celebrates World Environment Day. This holiday was established in 1972 and this year we celebrate it for the 44th time. In 2017 the Commander Islands Nature and Biosphere Reserve prepared a gift for the locals and guests of Bering Island – a new tourist trail on Severo-Zapadnoye rookery.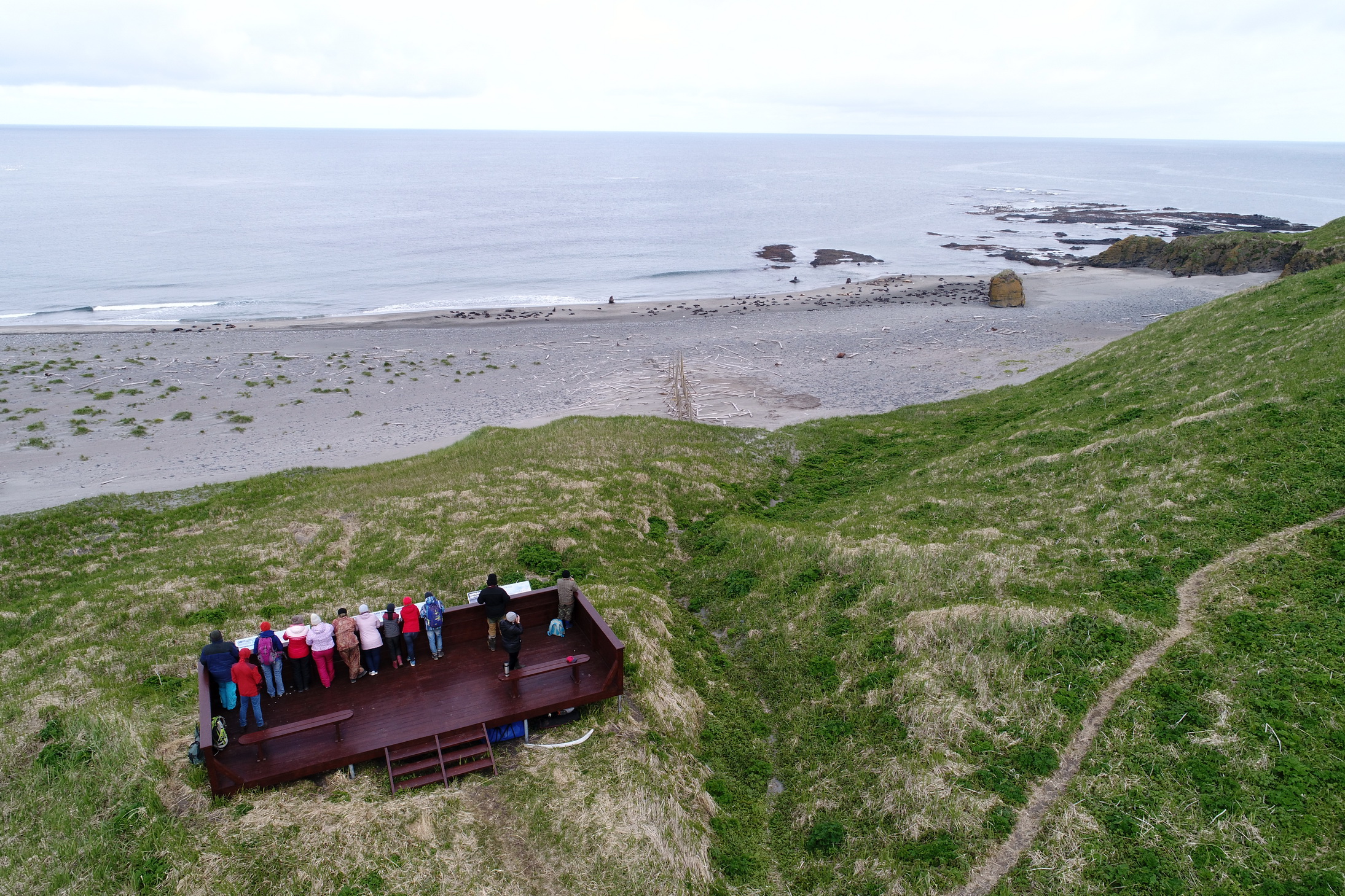 A view on Severo-Zapadnoye rookery and the observation point from our drone. Photo by Evgeny Mamaev. 
Severo-Zapadnoye rookery on Bering Island is one of the main points of interest of the Commander Islands Reserve. In summer tens of sea lions, thousands of northern seals, as well as sea otters, spotted seals, harbor seals, arctic foxes and several species of seabirds can be seen at the same time. This rookery is easy to access in nearly any weather and any season, by foot or using vehicles. The development of this beautiful part of Bering Island is one of the main tasks of the Commander Islands Reserve and in spring 2017 we managed to finish the first stage of this huge, difficult, but very important work. 
The entrance information board to Severo-Zapadnoye rookery. Photo by Evgeny Mamaev
We installed the information board at the entrance, improved two observation points, which provide nice view on the rookery, and made information boards in Russian and in English for our guests to discover more about the rookery and its inhabitants. We used up-to-date data on population numbers, ecology, biology and population proportions of eared and true seals – the main inhabitants of the Commander Islands rookeries. The data were collected through many years of research of marine mammals, including those conducted by the Scientific Department of the Commander Islands Reserve.
Due to recent improvements, you can watch the life of the rookery in comfort without harming the animals.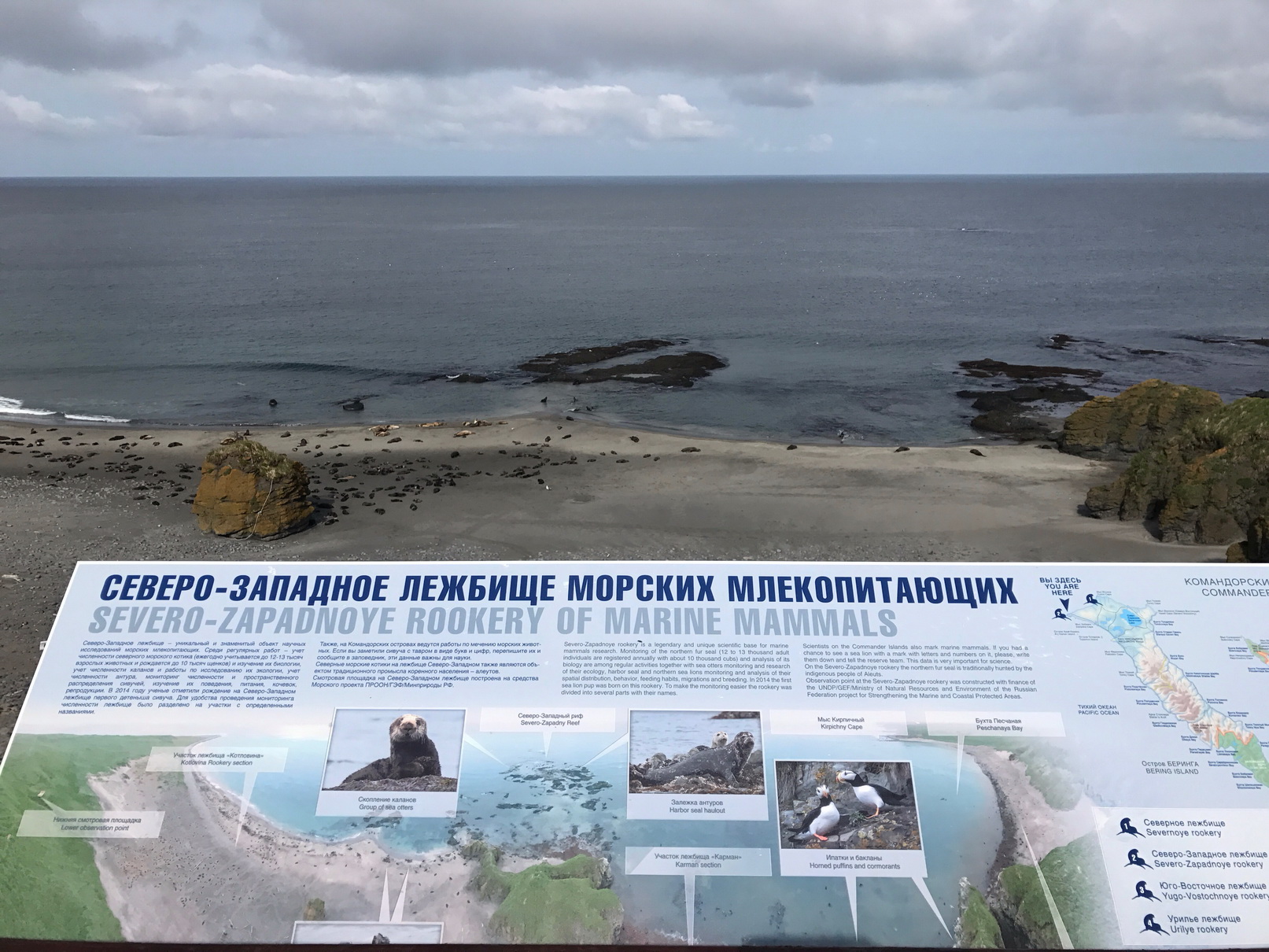 Information boards and view on the rookery. Photo by Evgeny Mamaev
It is worth mentioning, that the observation points are situated in special places, where tourists would not cause the animals any stress. This is a widespread world standard and our reserve as well as other nature reserves and national parks of Russia actively use this method. Besides, the Commander Islands Reserve organizes field trips to the rookery, accompanied by one of our researchers and marine mammals specialists, who will tell you about the rookeries of the island and its dwellers. 
The first visitors of Severo-Zapadnoye rookery – tourists from New Zealand (Pacific Travel Company) – took a favorable view of the new infrastructure. 
Creation of modern tourist infrastructure in Kamchatka Region is an important step to increase tourism appeal and one of the goals in today's region development. Severo-Zapadnoye rookery trail not only meets some challenges of our reserve to protect rare animals, but also promotes educational and ecological tourism development.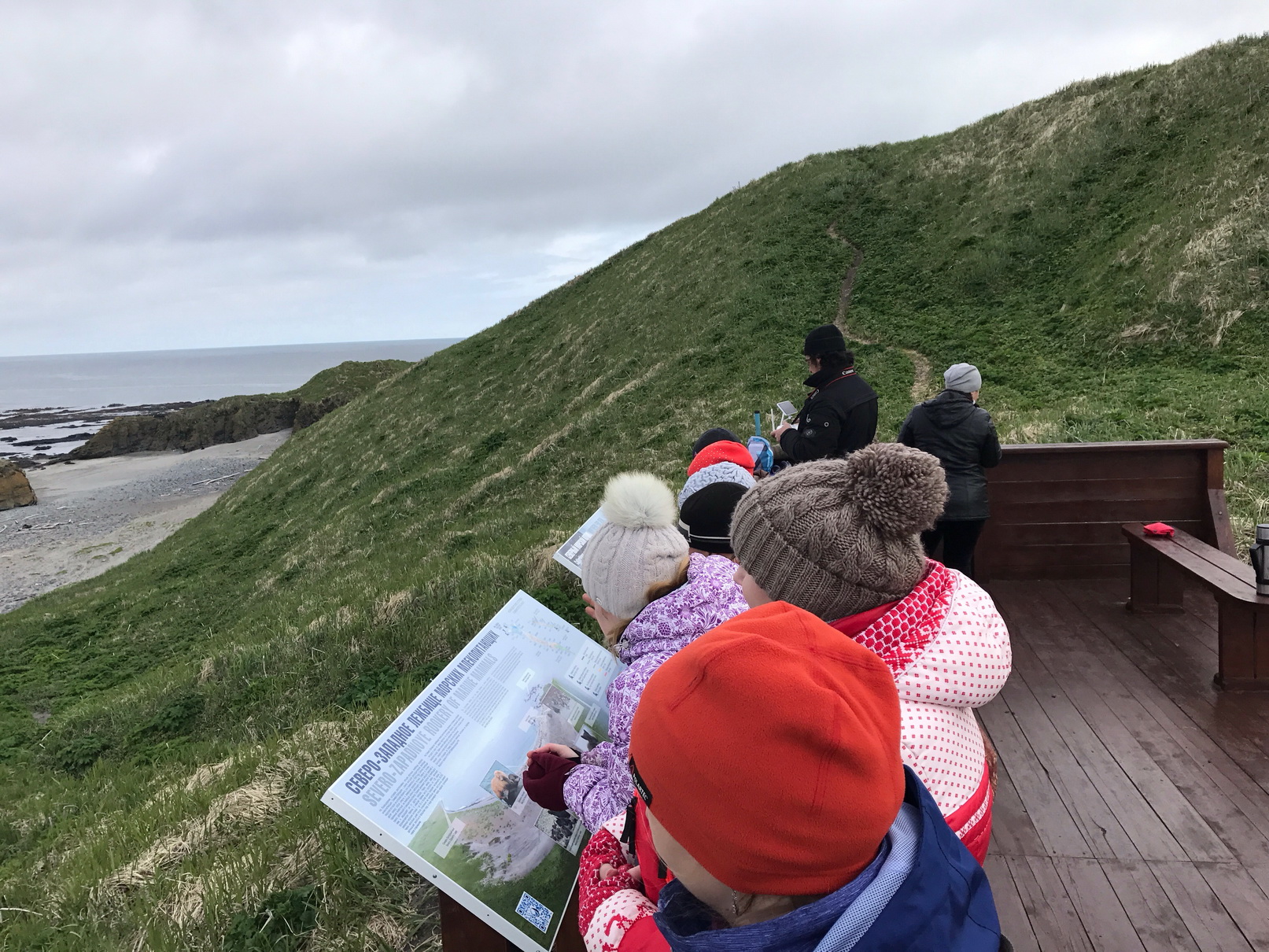 Children from Nikolskoye village examine new information boards. Photo by Evgeny Mamaev
In total about 70 haulouts of true seals (45 on Bering Island and 25 on Medny Island) and 4 big rookeries of eared seal are situated on the Commander Islands. Northern fur seals population in the reserve includes 200 to 220 thousand individuals – about 20% of world population – which live together with 500 sea lions, 2 or 3 thousand harbor seals, 3 to 3.5 thousand sea otters. All 10 species of North Pacific pinnipeds are registered in the Commander Islands Reserve. Our team finished the trail construction before World Environment Day. This holiday is celebrated annually on the 5th of June from 1972. The foundation for this holiday was laid by resolution № A/RES/2994 (XXVII) of 27th session of the UN General Assembly, which took place on December 15, 1972. Traditionally every year a slogan is chosen and this year it is I'm With Nature, which depicts the unity of people and nature.  
The Commander Islands Nature and Biosphere Reserve is planning to continue further development of this ecological trail.