On May 30 the first cruise ship – Professor Khromov – entered Nikolsky Roadstead Bay. 57 tourists from Australia, Canada and Europe had an excursion to the visitor center of the Commander Islands Nature Reserve and visited our renewed souvenir shop. Later they left to see more sights of Nikolskoye Village.
In the end of May tourist usually come to the northern part of the Pacific Ocean to see migrating and local birds. You can tell a birdwatcher by long focal-length lenses, which they take to the shore not to miss any successful view.
For example, tourists from Australia dream to have pictures of those birds, which come to Australia for winter. "At home they see the bird is their casual attire. Here the animals are totally different, their plumage becomes more bright and colorful for the breeding season", said Elena Sabanina, guide and lector of the tourist group.  
In the end of spring birdwatchers come to the Commander Islands. Photo by Dmitry Strakhov
As a rule, tourists spend several hours in Nikolskoye, which is enough to see the village, including our visitor center and Aleutian Local History Museum. This time guests of the island were the first to see the new conference hall and souvenir shop of the Commander Islands Reserve, where they bought handmade souvenirs for their friends and shared their impressions about the islands.
Tourists in a renewed souvenir shop of the Commander Islands Nature and Biosphere Reserve. Photo by Dmitry Strakhov
Bred Kerry, birdwatcher from Canada, spoke about the rare beauty of the wild nature of the Commander Islands. "It is wonderful to know, that there is a piece of our planet with nearly untouched nature and rare species of birds, which I dreamed to have a photo of.
Professor Khromov cruise ship in Nikolsky Roadstead Bay. Photo by Evgeny Mamaev
Today tourists travelled around Bering Island. On May 31 they will leave for Medny and later continue their trip to Zhupanov Cape on Kamchatka, Kuril Islands and Sakhalin.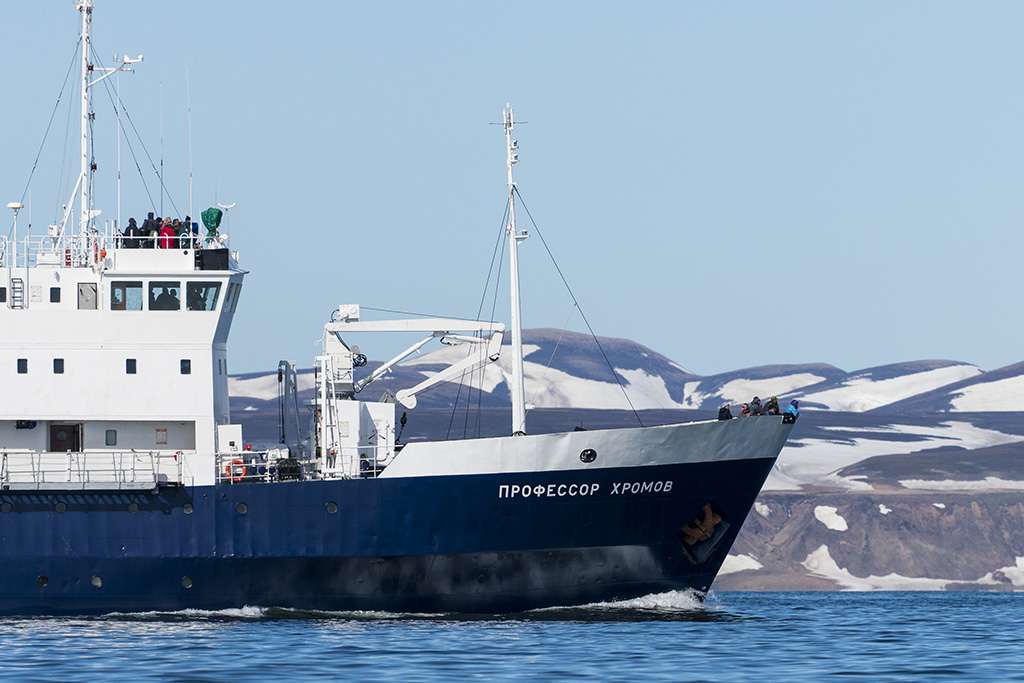 Tourists observe the coastline of Bering Island from the cruise ship. Photo by Anastasia Panfilova
According to Elena Sabanina, the cruise company follows the nature protection legislation. The ship never comes closer, than it is allowed to, even if the tourists ask to. However, travellers taking pictures of the wild nature usually do not ask of that. They have long focal-length lenses.
To learn more about the waders of the Commander Islands, you can watch our film.