At the end of this May, we received great news. The Hong Kong Waterbirds Ringing Group has been fortunate enough to meet one of the world's, if not the oldest, curlew sandpiper.
In April-May, a massive migration of birds takes place in the region, and scientists are actively installing rings and plastic flags on birds' legs, so that later they can be recognized. The longliving sandpiper was ringed in 2002 and bears the number NV 83515. It was already an adult then, which means that now it is at least 19 years old!
Curlew sandpipers, like some other waders,  use the East Asian-Australian flyway , which extends to the Taimyr Peninsula and Alaska. The Commander Islands are also included in this itinerary. In winter, birds are in the coastal regions of Australia, where they eat off on wide littoral zones, and then fly to the North to breed. To get to the Arctic, birds need stopovers. One of these "safe havens" for the curlew sandpiper is the Mai Po Nature Reserve in Hong Kong region, where international conventions and the work of local activists help 380 species of birds.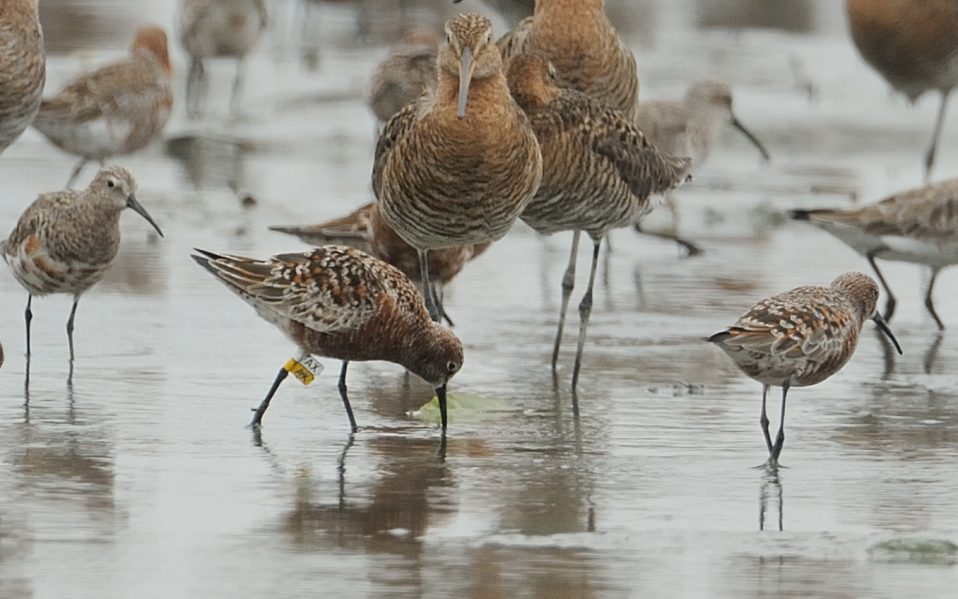 The combination of a white flag over yellow one means that the bird was tagged in Hong Kong. Photo by Kevin Lok. Source:   eaaflyway.net
Over the 19 years of its life, the NV83515 flew about 400,000 kilometers, which is even more than the journey to the moon! We really hope that we are lucky to see this great traveler on the Commanders.
If you notice a ring or a plastic flag with a number on the bird's leg, try to take a photo and write down the number. This will help global scientists to protect this species. You can tell about the sighting either to the employees of the reserve, or on the   website  . Here you will also learn about what the different colors of flags mean and which countries are ringing along this migration path.