From September 29th to October 01, 2017 Sochi will host the forum organized to celebrate the 100the anniversary of natural protected areas system of Russia. It has a very appropriate slogan: 100 years saving nature, that we love. The organizers – Russian Ministry of Nature Resources and Ecology – created the forum to show the level of Russian nature protection system, to give a possibility for professional connections and to promote experience sharing between Russian and foreign colleagues. 
During the opening ceremony the participants listened to congratulations from Dmitry Medvedev, Valentina Matviyenko and Sergey Donskoy. Our colleagues from Finland, UNESCO and IUCN were also given a word. During the second part of the session the speakers underlined the importance of rangers work, of ecological educators and scientists along with proposing new ideas to raise the level of system efficiency today and in the future. An important part of the ceremony became the screening of Century of Russia's Wildlife Reserve System film. 
The first day of the forum was marked by the distribution of awards "Best in the Profession-2017". Ecological educators from the Commander Islands Nature and Biosphere Reserve took prized in two categories: Innovations in Ecological Education (for workshops conducted by Anna Strokan in many parts of Russia) and On the Protected Wave (for the Children's Page of the Commander Islands Reserve edited by Svetlana Glinkina). Within the forum framework four new biosphere reserves were granted their certificates. Biosphere reserves are highly precious natural areas, which have the international UNESCO status. The Commander Islands Reserve function as a part of the biosphere reserves network for 15 years.  
The Commander Islands Reserve specialists take an active part in symposiums and business meetings. The thematic platforms are consecrated to
       Fight against poaching
       Educational tourism on the protected territories
       Protection of rare species
       Development of youth programs and Friends of the Protected Islands project
       Business involvement
       Development of UNESCO biosphere reserves system
       And many others.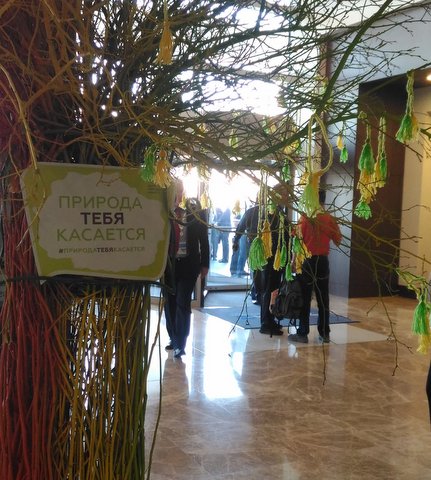 During the second day the head of Russian Ministry of Natural Resources Sergey Donskoy will discuss with our colleagues from CIS countries the perspectives of international cooperation, solutions of transboundary ecological problems, measures taken to increase the population of rare animals, to save a number of large water features and other. The last day of the forum will be concentrated on another important international event – the III meeting of International Ecological Counsel of Member States of CIS. 
It is an important supranational structure, which governs the issues of common nature protection activities of the countries and cooperates with UN Environmental Programme (UNEP). In the end the participants will gather for the final session, which has the goal of adoption of Sochi Declaration for Nature Protection Development in the XXI Century. This document will be used as a basis for further law-making and many projects in the sphere of nature protection development.