During the last decades the researchers of the Commander Islands Nature and Biosphere Reserve cooperate with scientists from Moscow State University in studying arctic fox biology and ecology on Medny Island, as it has a unique population of this animal. In spring 2017 we started the research of Bering Island arctic fox. In this article we will tell you more about this work, which took place in March 2017, and about the goals of this research. 
The main aim is to count the numbers of arctic foxes in their wintering grounds - near Severnoye and Severo-Zapadnoye rookery and Lake Sarannoye. Nevertheless, our scientists were not limited to just counts. Firstly, they caught a number of animals and tagged them with colored plastic tags, which are put on an animal's ear. It gives a possibility to tell one animal from another and to trace the destiny of a particular individual. Secondly, the researchers needed to take samples: excrements, fur or soft tissues as well as more tissues from dead animals.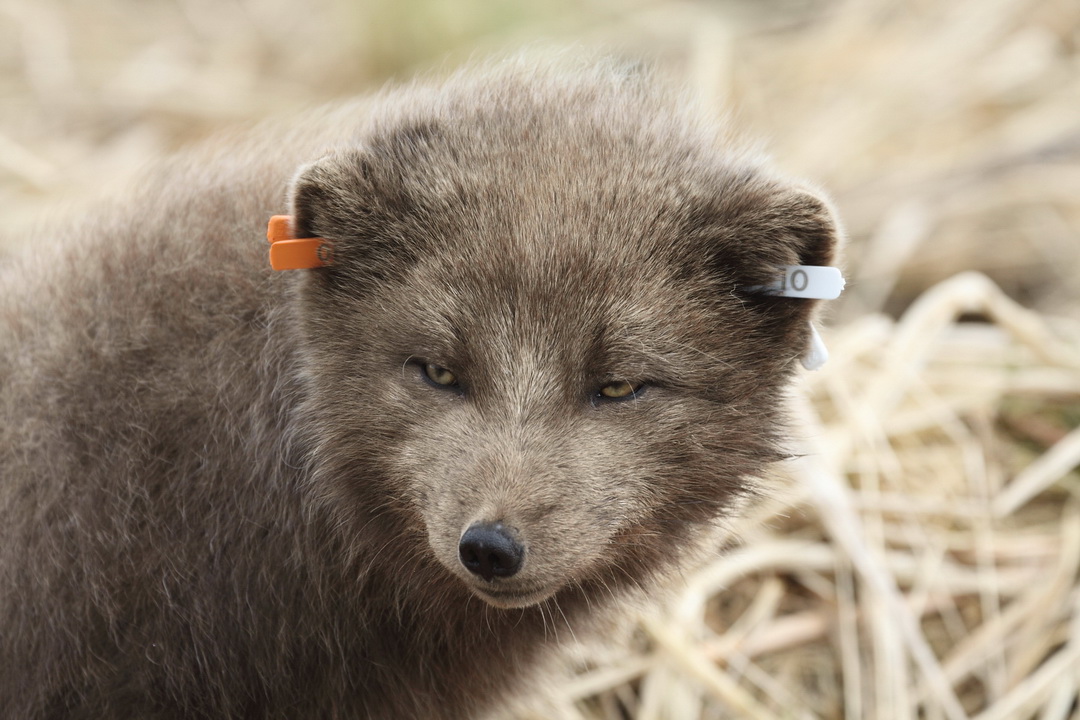 An arctic fox with tags. Photo by Alexander Shiyenok
As a result, we tagged and caught 20 animals – 10 males and 10 females, which is a big group. Further encounters with these animals give a chance to understand their routs, to find where they feed in summer, where they leave for in winter and more importantly to reveal the secrets of breeding rituals in spring. Of course, by "catching" we mean a difficult procedure, full of subtle peculiarities. Let's take a closer look on it. 
We begin with choosing the limits of a catching zone, as we need to catch as many animals as possible in a small amount of time. The scientists chose Lake Sarannoye region due to several reasons. Firstly, on Sarannaya river, which is connected to the lake, a mobile house is situated, which is in sharing of the Commander Islands Reserve and one of the local Aleut indigenous communities. It is a great opportunity to live in warm and dry conditions. Secondly, during warm months Pacific salmons come here for breeding. It is mostly red salmon, silver salmon and humpback salmon. These types of fish die after breeding is finished and local inhabitants feed on it. So even in March, 7 months after the breeding period, arctic fox can still find some dead fish. However, they prefer to steal from sea gulls or American minks, which can find some dead fish underwater even if the rivers are still frozen.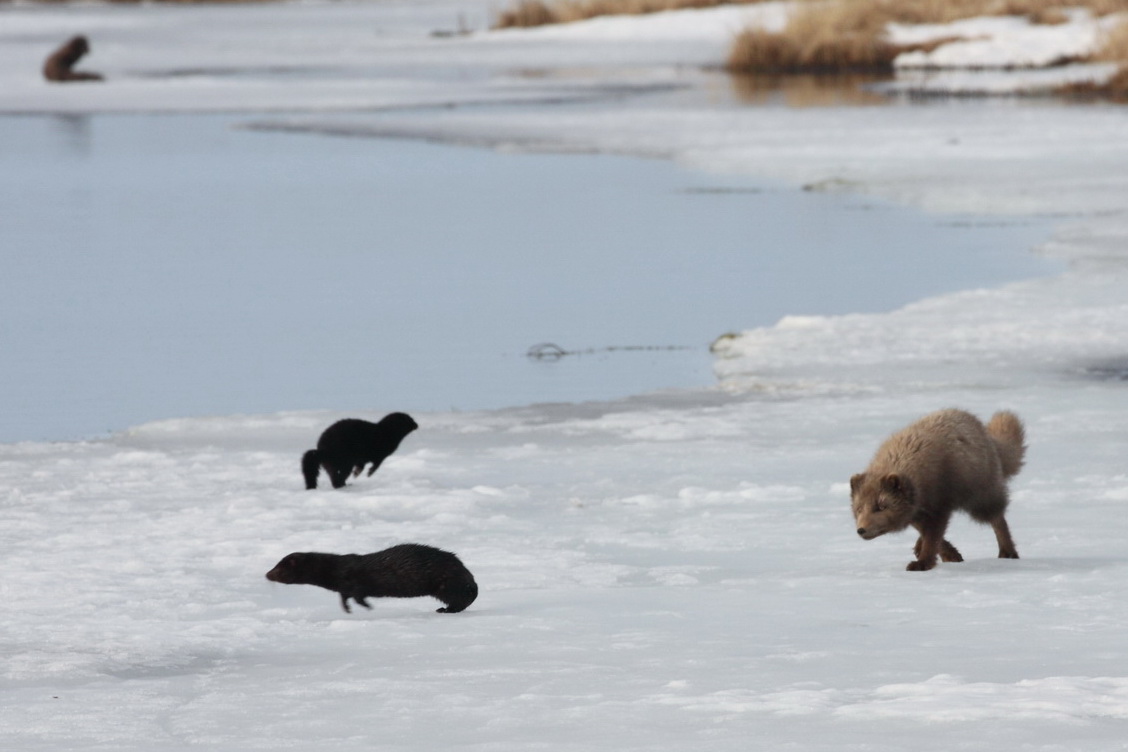 Arctic fox takes food of American minks. Photo by Alexander Shiyenok
Due to a combination of favorable conditions in Lake Sarannoye region you can easily watch tens of arctic foxes without leaving the spot. 
The process of entrapment may be difficult. For example, we use live traps, which should be very sensitive to catch an arctic fox, when it is inside, and very solid not to be activated by the Commander Islands wind. It is interesting to watch animal behavior – those, caught recently, wonder near the traps to scare away young animals and to take the bait. Sometimes arctic foxes manage to take the bait without even entering the trap.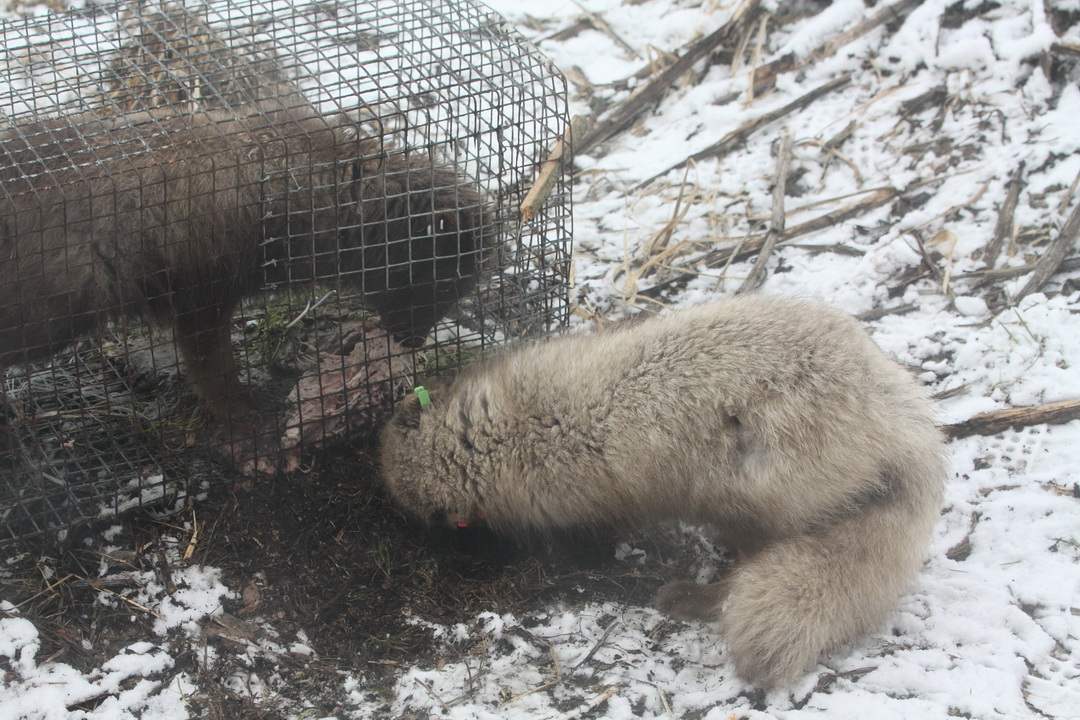 This arctic fox is not helping its friend. It is more interested in the bait. Photo by Alexander Shiyenok
Soft tissue and fur samples are needed for genetic analysis and research, which will help us to understand, if the insular arctic fox interbred with animals, which escaped form fur farms – fur farms were used on the Commander Islands during the soviet period to breed arctic foxes and minks – and to find out the ways, how arctic foxes came on the islands. The geneticists have already started their work. Moreover, the taken samples may be tested for heavy metals pollution (mercury), the proportion of stable isotopes etc. It will give us new data of feeding habits of the animals. 
The collected excrements will give us a chance to discover the main feeding source, if the animals are infected with parasites and to understand if this infection is connected to the other inhabitants of Bering Island. The research of parasitologist is useful not only to analyze the biology and ecology of the arctic fox, but also to prevent contamination of people. It is worth mentioning, that arctic foxes are the only aboriginal mammal species on Bering Island. Rats, mice, reindeers and American minks came to the islands, due to human activity.