Moscow has entered the new year with its sunny January days and the first breath of spring. Every new season of Pristine Russia Festival is traditionally a must-visit event for everyone in the capital of our country and not only for celebrities or fashionable society. In the Central House of Artists you can see a totally different kind of people meeting each other with great joy. Professional wildlife photographers in casual hoodies and with backpacks are walking around with a bit of jealousy for the exhibited works. They meet friends, discuss last year trips and share their plans for future. Journalists are anxious to speak with legendary phototravelers, before they leave for Arctic regions or even farther. In weekends the halls are overwhelmed be visitors of different age, some of them come with families. For some of the visitors the Festival became an annual tradition. Naturalists and like-minded people schedule their appointments here, search colleagues for new projects. Here the most adventurous plans are made, which are connected by the only idea of reflection and creative interpretation of beauty and richness of the wildlife around us – this profession is always challenging and contemporary.  
For years we see a growing tradition of inviting in Moscow employees of different nature reserves and national parks of Russia for the period of Pristine Russia Festival. They can easily deliver a lecture or make a workshop for children – the hosts are happy to give such possibility. Some part of the exposition and some information boards are consecrated to our protected areas. This year the theme of Russian protected areas is very important, as 2017 is a special anniversary year for the system. The official opening ceremony with several Directors of nature reserves took place on January 20. On January 21-22 Russian Arctic National Park, Nature Reserves of Orenbourg Region, Polistovsky Nature Reserve and Lake Pleshcheyevo National Park had great presentations. 
We also took part. The Commander Islands Nature and Biosphere Reserve had a great time and we were a success. 
The main part consisted in an hour-long lecture and video presentation. It is the second year that Evgeny Mamaev, Deputy for Science of the Commander Islands Reserve, speaks about the inhabitants of the protected water area of the reserve – marine mammals. His vivid and detailed speech, together with marvelous photos, unfailingly generates great interest. Every year we receive new data, try new methods, so there is always something new to tell about. The lecture about scientific research turns out to be clear for everyone and in such friendly atmosphere the visitors may pose questions or talk to the speaker afterwards to share their emotions and ideas. 
It is a great joy for us. The visitors will never mix up the Commander Islands and the Kuril Islands and the work of nature protection in reserves will become clearer for them. And video presentation cannot be overestimated in this task. We believe, that short and bright videos are far more efficient, then a long film. A film should be watched as a whole unit, while we use the fist video to show the atmosphere of our work. This video is made professionally to attract attention to the speaker. In the middle of the lecture we show the second video to illustrate our work. This year we finished our speech with the third video, made to congratulate all our colleagues in so many protected areas, which contained ocean, whales, music and atmosphere of a holiday. We are sure, that it is a great chance to show our team one more time. We believe, that it creates our friendly microclimate, which sometimes works better then data. 
The Commander Islands Nature and Biosphere Reserve team
About our team. The Commander Islands Reserve is the most remote one, so we traditionally have several employees in Moscow, who stay there for a period of time. Moreover, in January many of us have vacations, which they prefer to spend in Moscow. Some of us study at university, some just travel via Moscow. The main rule of our work on Pristine Russia Festival is to gather everyone, who is in Moscow at the time. It is not only an advantage for the event, but also for the team itself: everyone is very happy to meet each other, to discuss work, to reminisce about last summer, to laugh about common adventures and to drink a cup of coffee or tea in the local café, to make plans. All our colleagues were dressed in Moscow fashion – some in beautiful dresses, some with their beards brushed and some in our corporate hoodies with whales and seals –, but everyone looked fabulous! The hoodies and logos usually attract attention of the visitors. They ask, if they can be bought. We just answer, that it is not on sale, but they can become a present. Clothes are an important part of our image and reputation. The team looks like a team and it creates some mood. 
In the workshop area for children
In the meantime, in the same hall the workshop area was popular as well. The organizers prepared tables, chairs and even a projection screen for the participants, so it is possible to show any video you wish. Usually there are several workshops at the same time, but there is place for everyone. We see our workshops as a part of family leisure for the guests. So the adults and the older children can listen to the lecture and the younger ones may like our exciting and educating workshop. Children may color special magnetic pictures of the inhabitants of the Commander Islands – this activity was popular not only with children, but also with their mothers and especially their grand mothers. We propose everyone to play with felt whales, seals, sea otters and tufted puffins. 
These toys can be put on hand and used for a puppet show. They are masterpieces, made by professional artists, so their quality and biological authenticity is verified and proved. Our colleagues may not only tell stories about ocean dwellers, but also show the characters to children, who then imagine and tell their own stories about whales and other animals. The fact that the workshop area is huge was very convenient for us, because we have big puzzles, depicting ocean life, tundra and the coasts. It is a dream-come-true experience to solve the puzzle right on the floor, which is also popular with adults.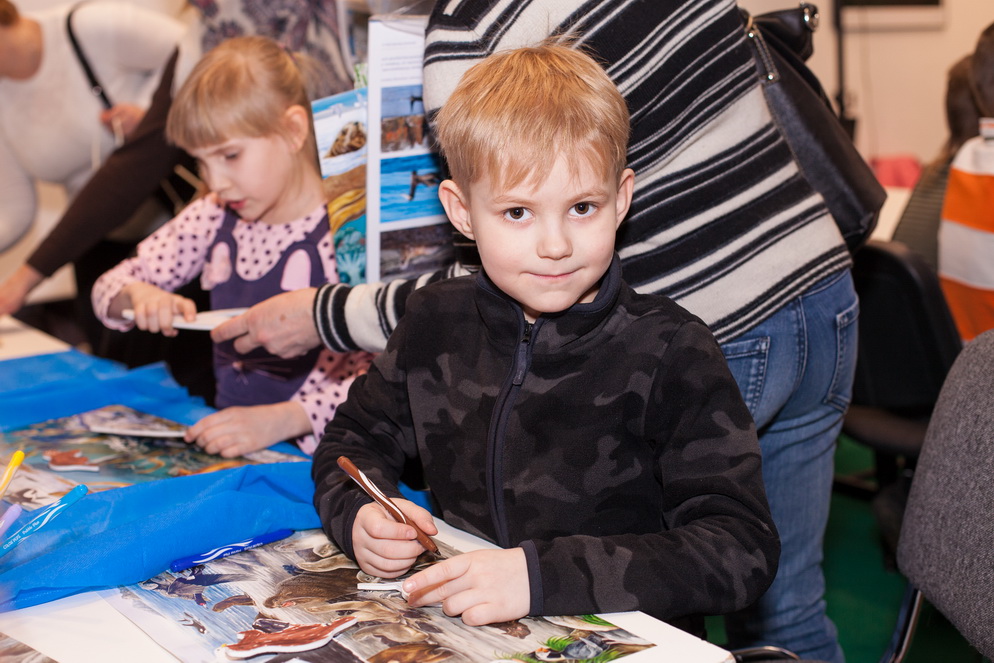 In the workshop area for children
It is worth saying that we prepare all necessary objects in advance and all together they are rather heavy. We bring to the Festival literally everything we have. The Commander Islands Reserve is very thorough in making our printed products and souvenirs. We make it together, sometimes in brainstorming sessions; we give the designers a pain in the neck, trying to achieve the best proportion of beauty and information. So all this treasure, consisting of calendars, brochures, books for children, workshop materials, huge informational roll-ups, should be carried 200 meters from the parking lot. And parking in this area in weekend is traditionally a problem: we wait for a parking lot to become free and then carry the stuff to the service entrance. Unfortunately, it is a common problem and we should live with it. The organizers are very hospitable and include our colleagues in the free entrance list. Our task is to respect the work of the occupied organizers and to send the lists in advance. All our published products and souvenirs and free of charge. Sometimes we are out of some souvenirs before the end of the event, so not to create conflicts, this time we organized a Prize-for-All lottery, for everyone to win a calendar, a memory stick or a magnet.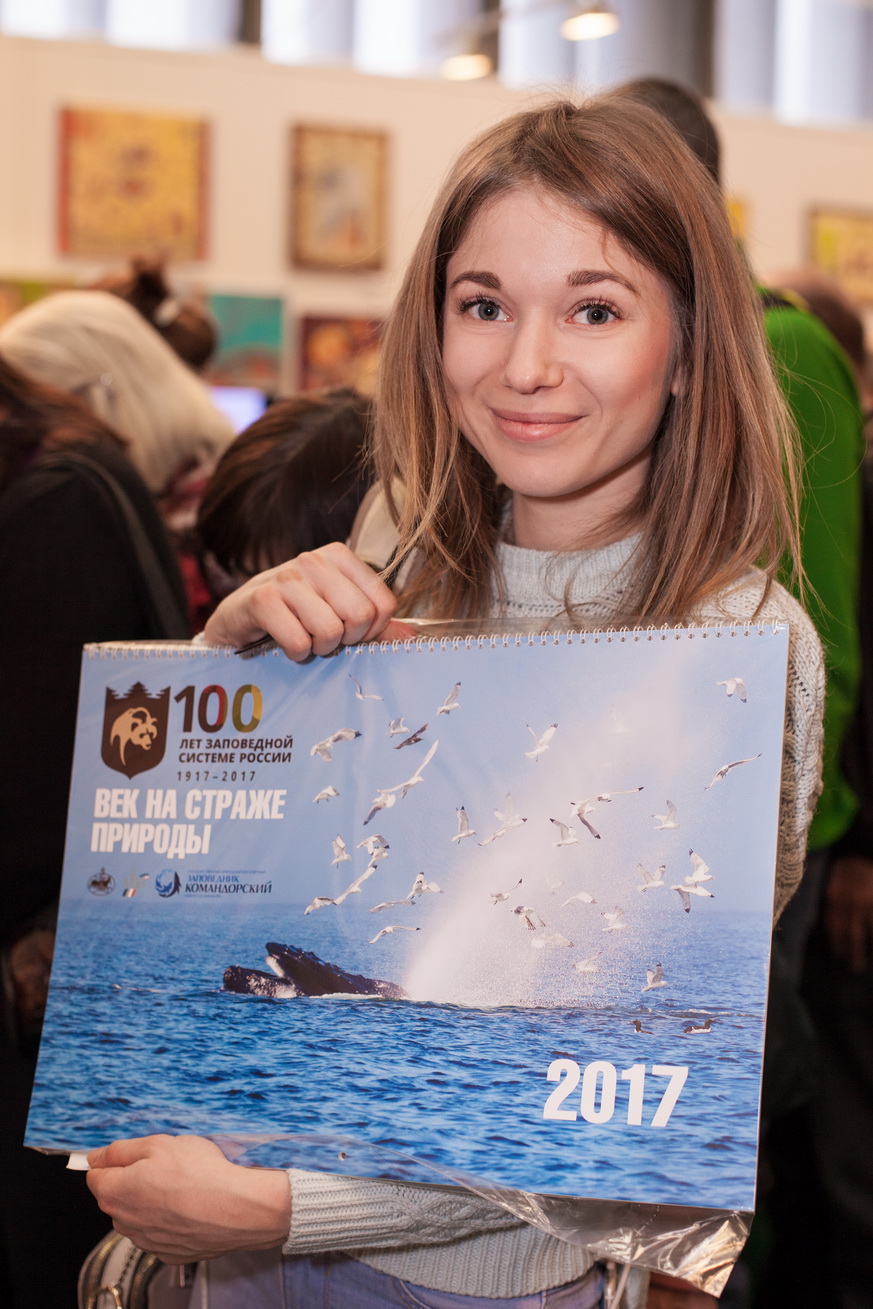 The Commander Islands Reserve calendar for 2017
There is no problem with brochures or posters, we give them all to our guests and everyone is happy. In Moscow we have a whole group of frequent guests among schoolchildren, so we invite them as well to all our exhibitions in Moscow and in other cities and towns. This year we introduced a special quest and a card for it. During every our event you may get a diving whale stamp in your card. The most loyal of our guests will receive presents. In the corner of the Commander Islands Reserve there is always a lot of people, some of which propose new ideas, which come in handy in our work. We believe, that new friends are essential for the reserve, even if they never have a chance to visit the islands.
When our hour of work comes to an end, it seems, the hour is not enough. But we breathe out, grab our stuff and – finally – go to enjoy the exhibition. It is worth it!
Pristine Russia Festival lasts till February 26. On the web-site of the festival you may see the program till January 29, but we will have chance to take the floor on February 11, during RGS day. The Festival is a priceless opportunity for our protected areas to tell people about their reserves free of charge in one of the most prestigious venues in Moscow. We hope, that our colleagues from other nature reserves or national parks will take part and tell the Moscowites about their territories next year, if not this year!