Medny Island flora list became larger as one new species was added - lady's mantle (Alchemilla subcrenata Buser). The unusual plant for the region was found by Angelica Mogileva, Botanist of the Commander Islands Reserve, during her geobotanical expedition. Together with Ranger Alexey Mogilev they spent a month on the uninhabited island, collecting data on plant composition of the second largest of the Commander Islands.
"This subspecies of the lady's mantle is neither a part of Kamchatka flora nor that of North American flora, which are typical for the Commander Islands. Originally the plant was brought unintentionally on Bering Island and it seems that it was later brought to Medny as well. Here in Gladkovskaya Bay the plant found its new home", said Angelica Mogileva. Probably it is not the only finding of the new species, said the specialist, as 60 herbarium specimens and 1.8GB of photos are still waiting to be processed.
Photo by Alexey Mogilev
During the expedition new habitats of rare plants were found, for example habitats of orchids listed in the Red Data Book of the Russian Federation and Kamchatka Region such as Spotted lady slipper (Cypripedium yatabeanum) and fringed orchids of Platanthera genus. "On Medny Island the lady slipper is seen irregularly and is rarer than on Bering Island. It mainly occupied southern slopes. On the contrary various subspecies of Platanthera genus are more frequent on Medny Island", said Angelica Mogileva.
To observe the floral state of Medny Island 8 permanent geobotanical sites were chosen. It will contribute to long-lasting data collection, which have never been created before on this territory. In the recent decades the description of plant composition of the island was fragmentary, as rare groups of researchers from different institutes came to the islands to conduct research of only some of the plant groups or of the overall species composition. Still the data on seasonal and yearly changes of Medny Island flora were insufficient.
Moreover, Angelica Mogileva has collected the necessary data to contribute to the research on introduced reindeer influence on Bering Island.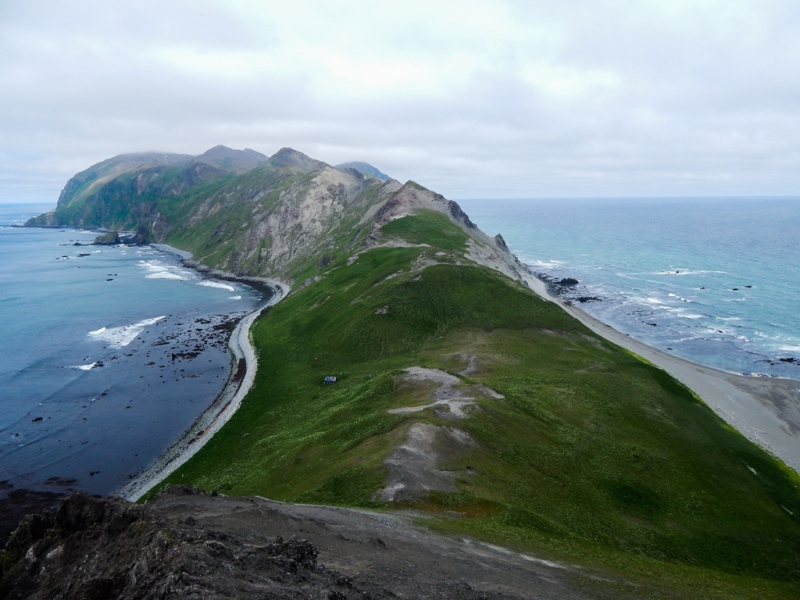 Photo by Angelica Mogileva
"In general local plants of Medny Island are shorter, than their counterparts on Bering Island. The southern part of the island is mainly occupied by gravel and row tundra types with large part of lichens. Due to the harsh climate it is hard to find here any valley covered with high grasses or two-meters-high hogweed or Filipendula, which is common for example in Staraya Gavan Bay or Buyan Bay of Bering Island.  But this picture can be seen on the North West of Medny Island, the relief of which is more similar to that of South Bering Island, therefore, the plant composition is similar", said Angelica Mogileva.
You may already know that Medny Island is separated from Bering Island with Admiral Kuznetsov Strait. It is the second largest island of the Commander Islands Archipelago and has surface area of 186 km2 and 57 km of length. The peculiarity of Medny Island is its high hills and mountains. You can hardly find any horizontal piece of land there. From the end of XIX century and till 1970, 200 people lived here permanently. Today the island is uninhabited.