The first weekend after the New Year holidays will become a chance to visit some educational events of the nature reserve – lecture about marine mammals of the Commander Islands, kids and adults workshops and the first Moscow screening of Albatross film.
Nature Reserves and National Parks Day in VDNH Lection House
On January 11, VDNH Lection House invites everyone to Nature Reserves and National Parks Day. We will present a lecture about the Commander Islands marine mammals and some workshops for the whole family.
The lector will be Evgeny Mamaev, PhD Biology and Deputy Director for Science. He will speak about sea otters, sea lions, harbor seals, northern fur seals and, of cause, whales.
Evgeny Mamaev consecrated 30 years of his life to science and research of the Commander Islands fauna
You will learn how to tell a sperm whale from a humpback, how to find an eared seal in a group of true ones and will discover many curious stories about meeting animals of the reserve face to face during scientific research in the protected water area.
Write down your questions not to forget anything and come to the lection house at VDNH. Those who ask the most interesting questions will win the calendar for 2020 with photos of the Commander Islands and their inhabitants.
We begin at 16:00. Venue: Prospect Mira, 1236, Worker and Kolkhoz Woman pavilion, Lection House, ground floor. Workshops will take place in the hall.
Entrance is free of charge, but, please, register in advance.
Lection registration: https://lektorij-vdnh.timepad.ru/event/1220422/
Magnet Workshop: https://lektorij-vdnh.timepad.ru/event/1220811/
Sea otter mask workshop: https://lektorij-vdnh.timepad.ru/event/1220816/
Marine file for papers workshop: https://lektorij-vdnh.timepad.ru/event/1220818/
First Moscow screening of Albatross film in Bukvadom
On January 12, we will continue the weekend in Bukvodom, Sokolniki Park, where we will host the first screening of Albatross documentary film in Moscow. It is a story of thousands of birds, who look at our planet from a totally different angle and frequently become victims of plastic pollution.
Director of the film Chris Jordan uses the feelings of the viewers and atmosphere of the film as a tool to transmit not only some facts but also his emotions. The viewers are going to feel the beat of a tiny birdling's heart, to see people with bird's eyes and to become a part of a fascinating bird world endangered by plastic waste.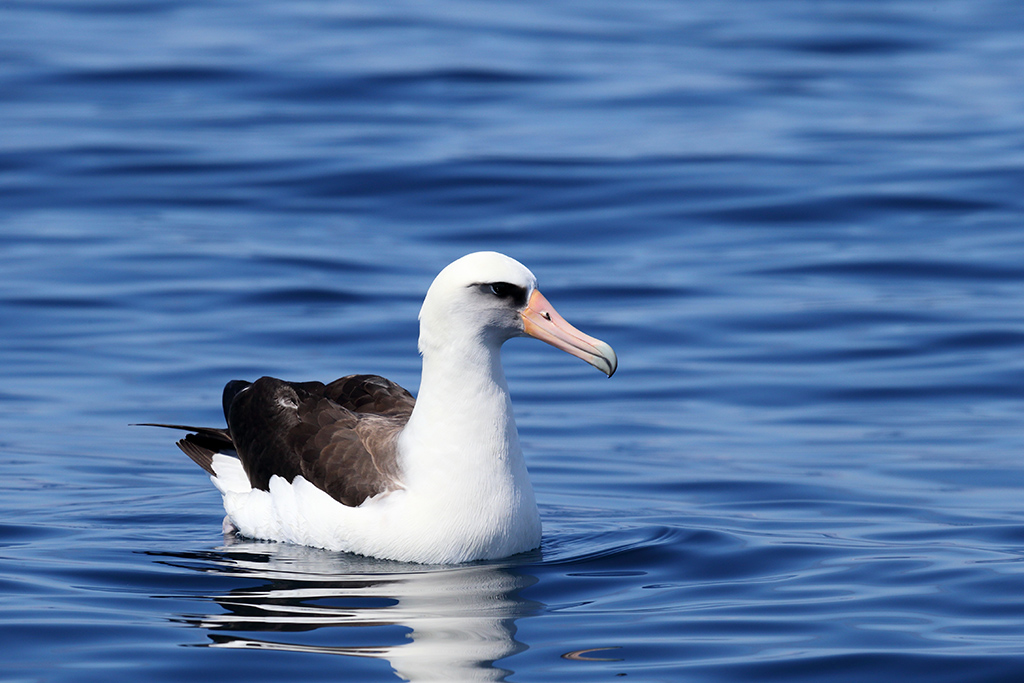 Laysan albatross in the water area of the Commander Islands Nature Reserve. Photo by Evgeny Mamaev
After the screening, we invite you to take part in the discussion with Irina Moskvitina Awareness Rising Specialist of the nature reserve to discover how Bering Island tries to fight pollution.
Free of charge. Start at 17:00. Please, register in advance.