On September 4 in La-Serena (Chile) International Marine Protected Areas Congress (IMPAC4) began with the opening ceremony. 
Anastasiia Barsukova, International Programs Coordinator of the Commander Islands Nature and Biosphere Reserve travelled two days to come to the far-away country and take part in one of the most important event for marine and other nature protected areas. Anastasiia shares our experience of water area protection, monitoring and ecological education as well as collects knowledge and ideas to implement in our work. Multilateral communications and cooperation are always a boost for new ideas and projects. 
"IMPAC4 Congress will take place on September 4-8 and include reports of the participants, symposiums, discussions, workshops and a poster-session. The Congress has goal to attract attention to the role of the oceans in the fight against climate change and to gather specialists to discuss measures taken to achieve Aichi targets. It is a great chance for us to share expirience, methods and ideas with scientists and nature protectors from Canada, Japan, France, the United States, Costa-Rica, Reunion, Brazil, the Philippines and many other countries," said Anastasiia. 
The opening ceremony was very intense and colorful. Politicians, such as Minister of Ecology of Chile Marcelo Mena or La-Serena and Coquimbo Region Governor Claudio Ibanez had a speech as well as representatives of nature protection organizations as Yolanda Kakabadze (WWF) and Julia Miranda Londono (IUCN).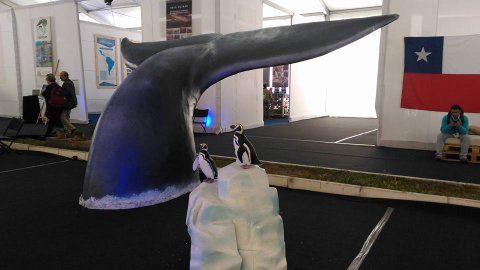 "For many participants the most memorable speech was given by the youngest managers of a marine protected area on Hawaii, which was made as national dance. It was also interesting to listen to the community of Rapa Nui (Chile) talking about the changes in minds of local people towards nature protection accompanied by ethnic songs," said Anastasiia. 
Many people talked about the necessity to restrict marine extraction of oil, gas and other resources. 
"The participants have great expectations of the Congress. I hope they will be satisfied," said Anastasiia.
The first day of the congress was full of events with workshops on management, reports, interactions on the poster-session and in science-cafe̒s.
On workshop on monitoring the vehicles in the protected water areas our colleagues from Australia spoke about using a satellite system, very similar to ours, in complex with speed limitations and sms-informing in case of entrance to the area. Another theme was the use of unmanned flying vehicles like military light sailplanes on accumulators. 
Emma Shiah spoke about the protection of newly found glass sponge reefs in Canada and the impact of sustainable energy facilities on coral reefs.
Macarena Santos from Chaneral Island Reserve in Chile shared the results of a research, which said that sustainable whale watching has little impact on whale activity, if organized correctly.  
Anastasiia Barsukova met our colleagues form Islas Damas Reserve, included in Humboldt Penguins National Reserve: "They were interested in our environmental education program, as they plan to implement a new course in local schools and territories."
On September 6 Anastasiia presented our report on the Commander Islands Reserve activities: "This day of the congress was consecrated to cooperation with local communities and joint management of the protected areas. We heard a lot of inspiring stories and successes from all over the world. I was also given a chance to share our experience!"