We believe that ecological education is one of the most important types of activity in the Commander Islands Nature and Biosphere Reserve, that is why not only special department is involved in it, but also our researchers, volunteers and artists: from writers and poets to painters and composers. 
Nature Reserve Development and Ecological Education Department is working hard in several locations at the same time. On Bering Island in the heart of the Commander Islands Reserve – in Nikolskoye Village – Chief Specialist Oksana Solovanyuk conducts classes in Ecological Guestroom situated in the visit-center of the reserve. Our Director and research team also help with classes and workshops. 
Oksana also comes to the smallest villagers in the local kindergarten, where they draw and model marine mammals, play with toy orcas, solve puzzles and analyze whale length, depicted with special satin ribbon. In school the classes are similar but with higher difficulty level – children take part in quizzes, fulfill complicated creative tasks, for example, they draw posters and compose tales. When the weather is good, schoolchildren leave their classes for littoral, take their binoculars and observe marine mammals, kelp, shells and write it down in monitoring diaries. Taking a boat to go to the sea is certainly the most interesting activity, but serious preparations are essential!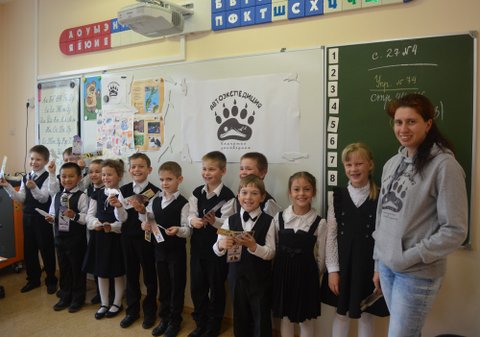 In 2017 the schoolchildren of Nikolskoye Village had a chance to explore the new tourist trail on Severo-Zapadnoye rookery of marine mammals and to visit Toporkov Island with a real research mission!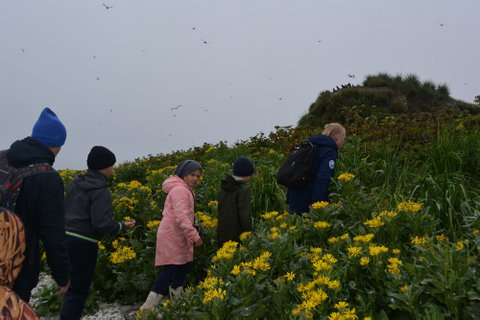 "We live in a small village on an island with its peculiarities and difficulties. Children do not always have a possibility to see the other world – the world of interesting work, travel and exciting activity! My job is to show, that we are a part of this immense world and to save it we need to work together, to show, that nature protection and research are needed and eagerly sought by the society! I've chosen a goal: I want these children to become professionals in 10-15 years and to come back to work in the reserve!" said Oksana Solovanyuk.    
Summer is a holiday time, but not for us. We organized classes in the school summer camp. One of the most memorable became the class held by Angelica Shilova, who told the participants how to make a proper herbarium. 
We construct a comfortable and educational children's room in the visit-center of the reserve in Nikolskoye. Soon it will host the first visitors. 
Kamchatka region became home for Sea of Life Festival and the Commnader Islands Reserve took part by organizing events on Bering Island and in Petropavlovsk-Kamchatsky. In the capital of Kamchatka region our chief environmental educator is Iva Kazantseva. This year she held a number of classes in local schools, and workshops in Regional Children Library and in the framework of Sea of Life Festival. 
For several year already we participate in Protected Kamchatka Car Expedition. This year on the base of the event we added a campaign called Red Data Book Through the Eyes of Children. (http://komandorsky.ru/red-book.html )
The Commander islands Reserve specialists organized Nature Protection Lessons in Nikolskoye Village, Petropavlovsk-Kamchatsky and Moscow to celebrate the 100th anniversary of Russian system of specially protected natural areas. 
Another specialist of the Department – Anna Strokan (often with Anastasia Barsukova) – conducts workshops and tells people about marine mammals literally all around the country. Just imagine the geography: Smolensk (Smolensk Lakeland National Park), Kaliningrad (Birds Day together with Kurshskaya Kosa National Park), Kirov (in the framework of The Wonderful World of the Commander Islands Photo Show), Arkhangelsk (The Night of Museums: Protected Areas of the North event in Kenozero National Park) and Irkutsk, Shelekhov and Tanhoy near Lake Baikal. 
"The Commander Islands Nature and Biosphere Reserve is one of the most difficult to reach among all the reserves in Russia. That is why we carry out a project called We Are Coming!  We try to tell people about the reserve, to speak to those, who never visited the islands and to ignite the sparkle of interest, love and appreciation. Every time I become one of my characters: small mouse, handsome sea otter, strict sea lion or relaxed whale! It is my own one-man theater. It travels from one town of our huge country to another with workshops, which make children excited. That is the moment when I realize, that Russian system of protected areas received a new friend!" said Anna Strokan. 
The participation of the reserve in Moscow events is always planned beforehand for the next year. In 2017 our team organized educational events during Russian Pristine Nature Festival, Sea Otter Day and Water Day in Timiryazev Museum. 
In the end of October we took part in the All-Russian Festival of Children Books in Russian State Children Library, where we showed our workshops (held by Anna Strokan and Anastasia Barsukova), our Artist Nadezhda Alexandrova (author of all the icons on the Children's Page of the web-site and illustrator of our books for children) taught children how to draw marina mammals. It combined with the presentation, made by our Researcher and author of Small Islanders book Alexander Shiyenok, and with our film Waders of the Commander Islands. During the festival Marina Kulakova, Poet and Head of Svetloyar of Russian Language Art Studio (Nizhny Novgorod) helped us a lot. She brought marvelous poetry and pictures about the Commander Islands, made by local children. 
In the summer our educators organized creative workshops within the Days of Russian Geographical Society in Gorky Park and Izmailovo in Moscow. 
Our specialists also share experience with foreign colleagues, for example, during training trips to Czech Republic and Germany or during the 1st Man and Biosphere Program Youth Forum in Italy. International Cooperation Development is managed by Anastasia Barsukova: even far away from home, in Chile, during the 4th International Congress of Marine Protected Areas she was building connections with organizations and professionals in different spheres. Anastasia translates our informational materials, such as information boards, film about waders of the Commander Islands, our informational cartoon about the reserve. Anastasia also manages the Useful Everything section of our web-site, where we post materials on nature protection organizations of the world and systems of specially protected natural areas in other countries. 
Environmental educators attracted a big part of attention during the jubilee All-Russian Protected Areas Forum held in Sochi. Our representatives share methods and experience with their colleagues from other Russian nature reserves and national parks. During this event our reserve was granted two honorary certificates as a result of environmental education projects contest.  
Our specialists take part in two culminating events of the year: the 5th all-Russian Conference on Ecological Education in Moscow and the All-Russian Conference and Meeting on Environmental Education Issues in Specially Protected Areas in Kazan. 
One more part of a successful translation of our knowledge to children, teachers and parents is our  web-site and social networks. Special section called Children's Page is a solid educational source, where everyone can find ideas for lessons in school or at home. Wish to find poems about animals to learn by heart or to entertain yourself? Click on Alphabet button. Wish to create something? Click on Workshop. To find something to read on a weekend, visit our marine Library with short descriptions for every book. Moreover we have games, coloring books and quizzes for you to interest children in marine themes! To create the Children's page we work in cooperation with painters and poets, designers and programmers, scientists and writers, teachers and librarians and with volunteers. It is some kind of a web-magazine for kids about marine environment.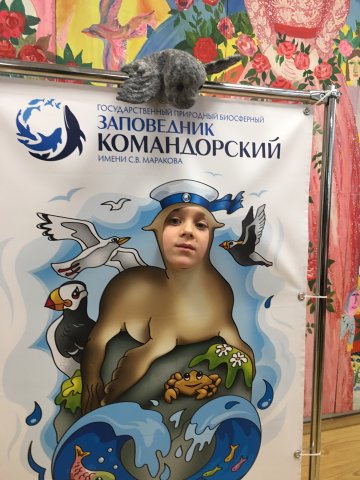 "We should educate both children and adults. We cannot protect nature in small groups. Ideally every person in the world should know what creatures live at our side, how to live and not to cause them any damage, how to be in harmony with the natural system, how to save landscapes, water sources, animal and plant species, mineral resources, seas and oceans for future generations. The recent discovery of a long lost Steller's sea cow became another reminder for us about how fast the animal was exterminated without understanding the consequences. 
Modern informational resources are a fantastic helping hand in education of different generations on vast geographical territories," said Svetlana Glinkina, Editor of the Children's Page. 
Small articles about the upcoming events, lessons and excursions appear on our Facebook page, Children's Page of the web-site and group called Wren in Russian social network VKontakte several times a week.
Follow our updates and come to see us!