On March 10, 2019 we celebrate 310th anniversary of Georg Wilhelm Steller's birth. It seems that everything is already known about him. Nothing to be added. Still there are some little known facts, which can rarely be discovered in a usual book. The head of Historical and Cultural Heritage Conservation Department of the Commander Islands Reserve Natalia Tatarenkova have been researching the biography of the famous naturalist for many years and discovered several interesting aspects of his life and character.
1. Date of birth. Nobody has doubts about the fact that the first researcher of the Commander Islands was born on March 10, 1709, but the thing we did not know until recently is was this data in the Julian calendar or the Gregorian one. It turned out that to find the answer is not so simple, as we expected. If we speak about the XVIII century, it would be logical to think that the old style was used, but it is wrong. The most avid fan of the scientist and the first person, who wrote his biography was the U.S. zoologist Leonhard Stejneger. He wrote about this day: "Sunday, March 10, 1709 was a day of high anxiety in house #463 of the free imperial town of Windsheim". If we look at the old Julian calendar, we will see that it was not Sunday, but Thursday. So the date is in new style. The best way to write the date is February 25/March 10, 1709.
In fact, the birth of the future researcher did cause a turmoil. The newborn didn't show life signs. Local nurse midwife exhausted her knowledge for such cases and even tried to approach the still baby with fumes of burning sulfur to understand if the baby was alive. Everything was in vein. However, sister of his mother did not lose hope. She enveloped the baby in warm blankets and changed them constantly. As we know from memories of Steller's elder brother Johen Augustine, who was then 6 years old, "after several hours" to the great surprise of the family the baby made a loud cry and started to come to life.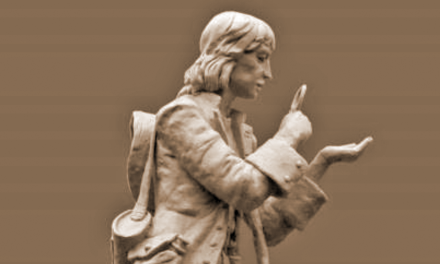 Georg Steller. Author of the sculpture: Ilya Vyuev.
2. Genealogy of the scientist. Ten years ago German researcher Johen Hoisler drew a parallel between Georg Steller and great German poet and philosopher Johann Wolfgang von Goethe (1749-1832). The author of Faust – the immortal masterpiece of the world literature – not only had a great command of the language and theosophy, but he also was a researcher, political figure and theatre director. Two German men were connected by their genius broad-mindedness, versatile fields of activity, love for humanity and colossal capacity to work. Nevertheless, it was not all. Genealogical research showed that Steller's mother, born as Susanna Louise and Goethe's mother had a common predecessor – Konrad Keller (1500-1592). So the great poet and the famous researcher were distant relatives.
"Near Russian Coast. Sophron Khitrovo, Nikita Shumagin, Dmitry Ovtsin, Vitus Bering, Ivan Elagin, Georg Steller, Alexey Chirikov" Author: V.N. Ephimov, 1985. Painting from collection of Kamchatka Local Joint Museum.
3. Talent for music. It is not a common knowledge that Georg Steller had an ear for music. He could write down any melody, he had ever heard and knew how to appreciate music of his age. Most likely, he had a beautiful voice and sang. Was it or hobby for a future scientist or a necessity remains for us a mystery.
The reason is that Steller's family lived in simple and humble conditions. The boy could aspire for further education only if religious organizations grant him financial support. In the beginning of the 18h century, high schools had funds for boys in need. One of the responsibilities of the students was to sing during religious and laic events. The best singers could be given some priorities, as food, clothes, books and supplies.
During his education (1713-1729), Steller was the best student in his class. He graduated cum laude. He had no problems with any of the subjects, but his favorite was nature studies, physics and biology. Therefore, for his graduation paper he chose a theme «Detonitrunuminisdiv(ini) testeetvindice» (About Thunder as a Prove of Divine Activity.